Posted by: Dan Fabulich | Comments (4)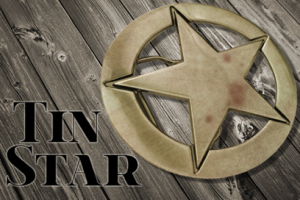 We're proud to announce that Tin Star, the latest in our Hosted Games label of multiple-choice interactive-fiction games, is now available for iOS, Android, and, via the Chrome Web Store, Windows, OS X, and Linux.
Tin Star is an interactive western mystery novel by Allen Gies (author of Marine Raider and Apex Patrol) where your choices control the story. The game is entirely text-based–without graphics or sound effects–and powered by the vast, unstoppable power of your imagination.
It's also the biggest interactive novel ever made, as far as we know. A single playthrough from beginning to epilogue can run over 80,000 words. The source code for the game is over 1.3 million words long. It's on sale for $3.99 until March 10, when the price will increase to $4.99.
Ride out into the Old West as a U.S. marshal! Confront outlaws, find romance, challenge Indians, defy the elements and craft an enduring legend as you uncover a conspiracy whose deadly web stretches from San Francisco to New York City!
We hope you enjoy playing Tin Star. We encourage you to tell your friends about it, and recommend the game on StumbleUpon, Facebook, Twitter, and other sites. Don't forget: our initial download rate determines our ranking on the App Store. Basically, the more times you download in the first week, the better we'll rank.