Credits
Writer: Alana Joli Abbott
Art: Paola Tuazon
Copy Editing: Kris Lorischild
Chapter Headers: Paul Wang
Beta Testers: Andrew Blakeley, Hana Chen, Catherine Cuccia, Marcus Dwayne, Andrea Fong, Nathanial Isaacson, Auden Ji, Raequan King, Kevin Kolbe, Bill Lauren, Annie Leonard, Mineral Leotard, Tellina Liu, Neda Rivers McLynne, Himanshu Mehta, Jay Merrell, Michela Moroni, Ramidel, Dylan Rheuark, Akm Rifat, Jaysen Shah, Sonny Shouse, Jamichael Smith, Camila Solivo
Managing Editor: Rebecca Slitt
ChoiceScript Language: Dan Fabulich
"Blackstone Academy for the Magical Arts" is Copyright 2020 Alana Joli Abbott. All rights reserved.
Alana Joli Abbott is a novelist and the game designer behind Choice of Games titlesChoice of the Pirate, Choice of Kung Fu and Showdown at Willow Creek. She is the author of three fantasy novels: Into the Reach, Redemption, and Regaining Home, and her game writing has been featured in Steampunk Musha, the award-winning Serenity Adventures, and Dungeon and Dragon magazines.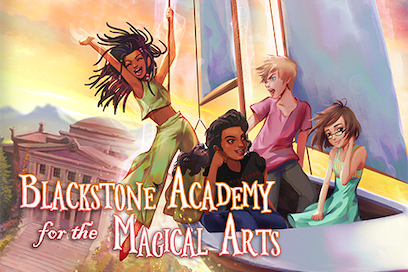 About Choice of Games LLC
Choice of Games LLC is a California Limited Liability Company dedicated to producing high-quality, text-based, multiple-choice games. We produce games in house, including Choice of the Dragon and Choice of Broadsides. We have also developed a simple scripting language for writing text-based games, ChoiceScript, which we make available to others for use in their projects, and we host games produced by other designers using ChoiceScript on our website. All of our games are available on the web. We also produce mobile versions of our games that can be played on iPhones, Android phones, and other smartphones.
We announce new games on our blog, Twitter, Facebook, and Google Plus.
More about Choice of Games LLC