Credits
Writers: Stewart C Baker & James Beamon
Art: Jerel Dye
Copy Editing: Kara Aisenbrey
Narrative Testing: Aletheia Knights
Beta Testers: Kanah Belflower, Philippa Bourne, Shrutika Dandekar, Mouse Elisedd, Tellina Liu, Patrícia Oliveira, Säde Pesonen, Quinn Pham, Leanna Roskoff, Rafe School, Kerri Shelton, Savio Shi, Stephanie Tjang
Managing Editor: Jason Stevan Hill
ChoiceScript Language Design & Development: Dan Fabulich
"The Bread Must Rise" is Copyright 2023 Stewart C Baker & James Beamon. All rights reserved.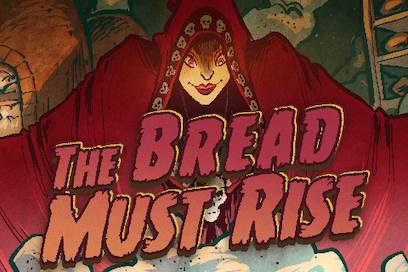 About the Authors
Stewart C Baker is an academic librarian and author of speculative fiction, poetry, and interactive fiction. His fiction has appeared in Nature, Lightspeed, and Flash Fiction Online, among other places, and his poetry has appeared in Fantasy, Asimov's, and numerous haiku magazines. He was editor in chief of Sub-Q, an interactive fiction magazine, from 2018-2020. Stewart was born in England, has lived in South Carolina, Japan, and California (in that order), and now lives within the traditional homelands of the Luckiamute Band of Kalapuya in western Oregon, along with his family—although if anyone asks, he'll usually say he's from the Internet, where you can find him at https://infomancy.net/
James Beamon is a science fiction and fantasy author whose short stories have appeared in places such as Fantasy & Science Fiction Magazine, Apex, Lightspeed and Orson Scott Card's Intergalactic Medicine Show. He spent twelve years in the Air Force, deployed to Iraq and Afghanistan, and is in possession of the perfect buffalo wings recipe that he learned from carnies. He lives in Virginia with his wife, son and attack cat. He invites you to check out his Pendulum Heroes fantasy novels and what he's up to at his website http://fictigristle.wordpress.com
About Choice of Games LLC
Choice of Games LLC is a California Limited Liability Company dedicated to producing high-quality, text-based, multiple-choice games. We produce games in house, including Choice of the Dragon and Choice of Broadsides. We have also developed a simple scripting language for writing text-based games, ChoiceScript, which we make available to others for use in their projects, and we host games produced by other designers using ChoiceScript on our website. All of our games are available on the web. We also produce mobile versions of our games that can be played on iPhones, Android phones, and other smartphones.
We announce new games on our blog, Twitter, Facebook, and Google Plus.
More about Choice of Games LLC