Credits
Writer: Robert Davis
Art: Adrienne Valdes
Copy Editing: Lauren O'Neal
Chapter Headings: Paul Wang
Beta Testers: Eleanor Aspinall, Felix Dammann, Kat Rooney, Ludivine Gregoire, Lucy Jauristo, Alexander Johnson, Erika Joyce, Gene Lomarquez.
Managing Editor: Mary Duffy
ChoiceScript Language Design & Development: Dan Fabulich
"Broadway: 1849" is Copyright 2017 Robert Davis. All rights reserved.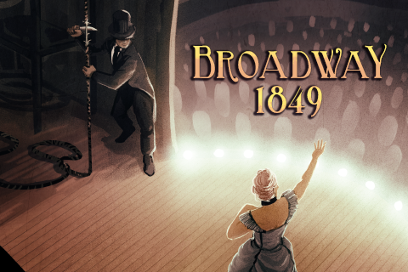 About the Author
Robert Davis is a contributing editor at Lady Science, an online magazine of the history of popular culture and science. He has published scholarly work on nineteenth-century world's fairs and theatre, but would trade it all to travel to the 1840s for a long weekend.
About Choice of Games LLC
Choice of Games LLC is a California Limited Liability Company dedicated to producing high-quality, text-based, multiple-choice games. We produce games in house, including Choice of the Dragon and Choice of Broadsides. We have also developed a simple scripting language for writing text-based games, ChoiceScript, which we make available to others for use in their projects, and we host games produced by other designers using ChoiceScript on our website. All of our games are available on the web. We also produce mobile versions of our games that can be played on iPhones, Android phones, and other smartphones.
We announce new games on our blog, Twitter, Facebook, and Google Plus.
More about Choice of Games LLC