Credits
Writer: Caleb Wilson
Art: Cat Farris
Copy Editing: Joshua Yearsley
Beta Testers: Jezzi Ambrosio, Tamara Diaz, Rachel Fahey, Jukka Järvinen, Gabby Lerma, Samuel Luangsay, Dar Rivkin, Horace Torys, Blake Vaden.
Managing Editor: Rebecca Slitt
ChoiceScript Language Design & Development: Dan Fabulich
"Cannonfire Concerto" is Copyright 2016 Caleb Wilson. All rights reserved.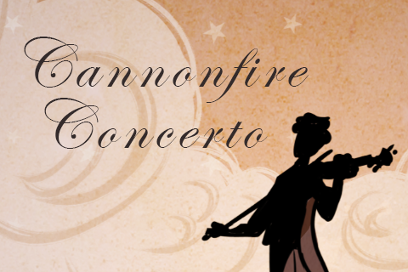 About the Author
Caleb Wilson has written many short pieces of interactive fiction, including Lime Ergot, Starry Seeksorrow, and Six Gray Rats Crawl Up The Pillow. His non-interactive stories have appeared in Weird Tales, Beneath Ceaseless Skies, Lady Churchill's Rosebud Wristlet, and Swords v. Cthulhu. He can be found online at Tumblr and Twitter. He and his wife live in Illinois.
About Choice of Games LLC
Choice of Games LLC is a California Limited Liability Company dedicated to producing high-quality, text-based, multiple-choice games. We produce games in house, including Choice of the Dragon and Choice of Broadsides. We have also developed a simple scripting language for writing text-based games, ChoiceScript, which we make available to others for use in their projects, and we host games produced by other designers using ChoiceScript on our website. All of our games are available on the web. We also produce mobile versions of our games that can be played on iPhones, Android phones, and other smartphones.
We announce new games on our blog, Twitter, Facebook, and Google Plus.
More about Choice of Games LLC