Credits
Writer: Jordan Reyne
Art: Richard Sherriff
Copy Editing: Lauren O'Neal
Beta Testers: Logan Crow, Rowan Lipkovits, Lysander_Xen, Matt Simpson, Saloni Singla, Teddy Turner, Barbara Vogler, Jeffrey Weng.
Chapter Headings: Paul Wang
Managing Editor: Mary Duffy
ChoiceScript Language Design & Development: Dan Fabulich
"Choice of the Cat" is Copyright 2017 Jordan Reyne. All rights reserved.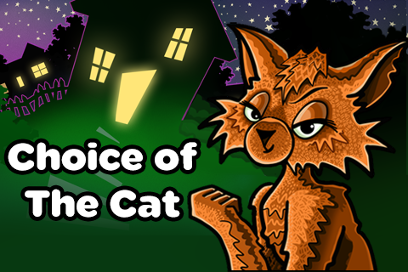 About the Author
Jordan is a New Zealand writer who studied philosophy and sociology at the university of Auckland. Jordan's first non-interactive novel was published in 2012 and several of Jordan's narrative/music projects were commissioned or funded by the New Zealand Arts Council. When not writing for COG Jordan messes about with loop machines and writes features for Sound on Sound and Kitmonsters.
About Choice of Games LLC
Choice of Games LLC is a California Limited Liability Company dedicated to producing high-quality, text-based, multiple-choice games. We produce games in house, including Choice of the Dragon and Choice of Broadsides. We have also developed a simple scripting language for writing text-based games, ChoiceScript, which we make available to others for use in their projects, and we host games produced by other designers using ChoiceScript on our website. All of our games are available on the web. We also produce mobile versions of our games that can be played on iPhones, Android phones, and other smartphones.
We announce new games on our blog, Twitter, Facebook, and Google Plus.
More about Choice of Games LLC