Credits
Writer: Jonathan Valuckas
Cover Art: Jeffrey Alan Dee
Line Art: Paul Wang
Copy Editing: Dennis Higbee
Beta Testers: Arcania, Shamoi Carty, Jennifer Cutshall, Diana, Alexander Dyers, Drin Gashi, Lorelai Hilne, Kane Kai, Callan Kelley, Angie Law, Joseph Onwukanjo, Ed Phillips, Ramidel, Elizabeta Stamenkovic, Victoria Struth, Brad Toler, Horace Torys, Larry Truss, Barbara V., Jane Wang.
Managing Editor: Jason Stevan Hill
ChoiceScript Language Design & Development: Dan Fabulich
"Champion of the Gods" is Copyright 2015 Jonathan Valuckas. All rights reserved.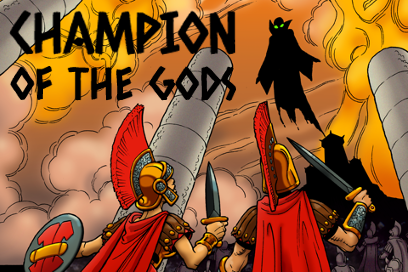 About the Author
In addition to "Champion of the Gods," Jonathan Valuckas wrote and designed The Fleet for Choice of Games. He lives in Jersey-Near-the-Airport with his husband and their dogs, and works in publishing.
"Champion of the Gods" is dedicated to Vera Valuckas, who is responsible for its existence in more ways than just the obvious one.
Acknowledgements
Thanks to Calista Brill, for hooking me up with this rowdy gang of metafictionists; Gary Colletti, for puzzling through the premise of "Champion" with me; Jason Stevan Hill, for his laser-focused design advice; Choice of Games's beta testers, for throwing light down story pathways hitherto dark; Jeff Dee, for making a D&D fanboy's dreams come true; Modern Myths and the Alamo Drafthouse, for mutating Westchester from within; and finally to Diane Naughton, who has listened to me talk about this game for roughly two years, and never once told me to clamp it.
About Choice of Games LLC
Choice of Games LLC is a California Limited Liability Company dedicated to producing high-quality, text-based, multiple-choice games. We produce games in house, including Choice of the Dragon and Choice of Broadsides. We have also developed a simple scripting language for writing text-based games, ChoiceScript, which we make available to others for use in their projects, and we host games produced by other designers using ChoiceScript on our website. All of our games are available on the web. We also produce mobile versions of our games that can be played on iPhones, Android phones, and other smartphones.
We announce new games on our blog, Twitter, Facebook, and Google Plus.
More about Choice of Games LLC
Some versions of this game were built using the Chromium Embedded Framework, Copyright (c) 2008-2013 Marshall A. Greenblatt. Portions Copyright (c) 2006-2009 Google Inc. All rights reserved.
Redistribution and use of the Chromium Embedded Framework in source and binary forms, with or without modification, are permitted provided that the following conditions are met:
Redistributions of source code must retain the above copyright notice, this list of conditions and the following disclaimer.
Redistributions in binary form must reproduce the above copyright notice, this list of conditions and the following disclaimer in the documentation and/or other materials provided with the distribution.
Neither the name of Google Inc. nor the name Chromium Embedded Framework nor the names of its contributors may be used to endorse or promote products derived from this software without specific prior written permission.
THIS SOFTWARE IS PROVIDED BY THE COPYRIGHT HOLDERS AND CONTRIBUTORS "AS IS" AND ANY EXPRESS OR IMPLIED WARRANTIES, INCLUDING, BUT NOT LIMITED TO, THE IMPLIED WARRANTIES OF MERCHANTABILITY AND FITNESS FOR A PARTICULAR PURPOSE ARE DISCLAIMED. IN NO EVENT SHALL THE COPYRIGHT OWNER OR CONTRIBUTORS BE LIABLE FOR ANY DIRECT, INDIRECT, INCIDENTAL, SPECIAL, EXEMPLARY, OR CONSEQUENTIAL DAMAGES (INCLUDING, BUT NOT LIMITED TO, PROCUREMENT OF SUBSTITUTE GOODS OR SERVICES; LOSS OF USE, DATA, OR PROFITS; OR BUSINESS INTERRUPTION) HOWEVER CAUSED AND ON ANY THEORY OF LIABILITY, WHETHER IN CONTRACT, STRICT LIABILITY, OR TORT (INCLUDING NEGLIGENCE OR OTHERWISE) ARISING IN ANY WAY OUT OF THE USE OF THIS SOFTWARE, EVEN IF ADVISED OF THE POSSIBILITY OF SUCH DAMAGE.