Credits
Writer: Lynnea Glasser
Art: Fabian Parker
Beta Testers: Michael Ammer, Dallas Dickinson, Jim Dattilo, FairyGodfeather, Angela Gallant, Miguel Garza, Russell Glasser, Moses Goss, Amanda Gregory, Hall Hood, Joey Jones, Jason Lautzenheiser, Brian Miller, Joshua Moretto, Hanon Ondricek, Dar Rivkin, Chris Schiestel, Jesse Sky, Adam J Solis, Daniel Stelzer, and Cass Yuri.
ChoiceScript Language Design & Development: Dan Fabulich
"Creatures Such as We" is Copyright 2014 Lynnea Glasser. All rights reserved.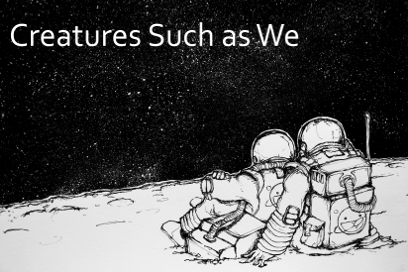 About the Author
Author of several text adventures and a published essayist, Lynnea Glasser is the winner of the 2013 Interactive Fiction Competition along with several XYZZY awards. Lynnea Glasser loves games for their ability to tell unique and amazing stories. With a background in biopsychology, she enjoys applying scientific rigor and self-examining philosophy towards game design and storytelling. Her blog documents her games along with game design notes at Made Real Stories. She can also be found on twitter at @LynneaGlasser.
About Choice of Games LLC
Choice of Games LLC is a California Limited Liability Company dedicated to producing high-quality, text-based, multiple-choice games. We produce games in house, including Choice of the Dragon and Choice of Broadsides. We have also developed a simple scripting language for writing text-based games, ChoiceScript, which we make available to others for use in their projects, and we host games produced by other designers using ChoiceScript on our website. All of our games are available on the web. We also produce mobile versions of our games that can be played on iPhones, Android phones, and other smartphones.
We announce new games on our blog, Twitter, Facebook, and Google Plus.
More about Choice of Games LLC