Credits
Writer: Josh Labelle
Art: Adrien Valdes
Portraits: Jerel Dye
Copy Editing: Eliot West
Chapter Headers: Paul Wang
Narrative Testing: Aletheia Knights
Beta Testing: Alter, Miha Baroš, Mason Beckett, Mandie Cait, Natalia Carmo, Luke Darden, Mercedes Diedrichsen, Bojana Djordjevic, Christopher Drape, Kaan Eren, hiii1411, JeromeK, Kevin Kao, Justyna Kopycińska, LeannaMandragoran, Livingdiamond, Erik Lutwin, Brittany Martin, Jasmine Om, Patrick Ross, William Shoman, Nadezhda Stanimirova, India Taylor, Kayla Tuttle, Polina Vulikh, Harry White, Mitch White
Managing Editor: Jason Stevan Hill
ChoiceScript Language Design & Development: Dan Fabulich
"A Crown of Sorcery and Steel" is Copyright 2022 Josh Labelle. All rights reserved.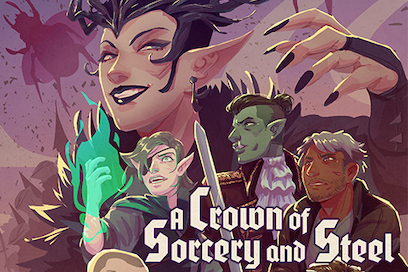 The trailer for this game included the following music:
The Enemy by Alexander Nakarada
Free download: https://filmmusic.io/song/4962-the-enemy
https://filmmusic.io/standard-license
Artist website: https://www.serpentsoundstudios.com/
About Choice of Games LLC
Choice of Games LLC is a California Limited Liability Company dedicated to producing high-quality, text-based, multiple-choice games. We produce games in house, including Choice of the Dragon and Choice of Broadsides. We have also developed a simple scripting language for writing text-based games, ChoiceScript, which we make available to others for use in their projects, and we host games produced by other designers using ChoiceScript on our website. All of our games are available on the web. We also produce mobile versions of our games that can be played on iPhones, Android phones, and other smartphones.
We announce new games on our blog, Twitter, Facebook, and Google Plus.
More about Choice of Games LLC