Credits
Writer: Ben Rovik
Art: Adrienne Valdes
Copy Editing: Kirsten Hipsky
Beta Testers: Gesine Betker, Gabrielle Brown, Natalia Carmo, Alissa Franklin, Auden Ji, Daniella Kade, Alicia Kebel, Talha Mahmood, Jennifer Speerstra, Victoria Struth, Eric Thomas, Michael Tucker, Kaitlyn Van Dorn
Managing Editor: Mary Duffy
ChoiceScript Language Design and Development: Dan Fabulich
"Fool!" is Copyright 2019 Ben Rovik. All rights reserved.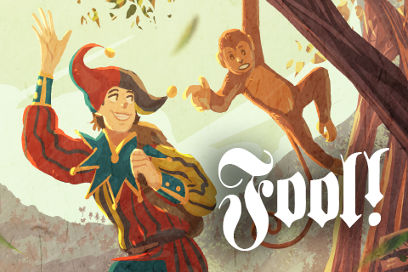 About the Author
Ben Rovik is the author of the Mechanized Wizardry fantasy-comedy novels, and an award-winning playwright produced all over the US and Canada. Like the PC in Fool!, he's spent much of his adult life onstage singing, acting, dancing, and telling tales onstage to audiences hostile, enthusiastic, and everywhere in between. He lives in Maryland with his wife, children, and too many cats.
About Choice of Games LLC
Choice of Games LLC is a California Limited Liability Company dedicated to producing high-quality, text-based, multiple-choice games. We produce games in house, including Choice of the Dragon and Choice of Broadsides. We have also developed a simple scripting language for writing text-based games, ChoiceScript, which we make available to others for use in their projects, and we host games produced by other designers using ChoiceScript on our website. All of our games are available on the web. We also produce mobile versions of our games that can be played on iPhones, Android phones, and other smartphones.
We announce new games on our blog, Twitter, Facebook, and Google Plus.
More about Choice of Games LLC