Credits
Writer: Gavin Inglis
Artist: Zack Soto
Copyeditor: Helen Carter
ChoiceScript Language Design and Development: Dan Fabulich
"For Rent: Haunted House" is Copyright 2012 Choice of Games. All rights reserved. The game was previously titled "Eerie Estate Agent;" the name changed in 2015.
Special Thanks from the Author: Naomi Alderman, Andrew C Ferguson, and David Varela.
About the Author
Gavin Inglis has been a busker, web tech, journalist, public relations executive and stage manager. His distinctive and irreverent spoken word features regularly in Edinburgh and often further afield. He teaches flash fiction at Edinburgh University. Always exploring new ways to tell a story, Gavin works with music, photography, magic, immersive games and hypertext.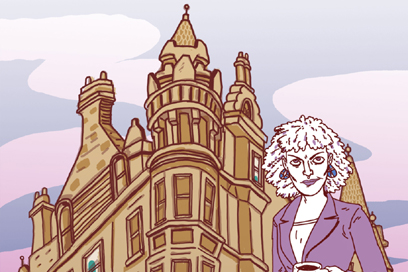 About Choice of Games LLC
Choice of Games LLC is a California Limited Liability Company dedicated to producing high-quality, text-based, multiple-choice games. We produce games in house, including Choice of the Dragon and Choice of Broadsides. We have also developed a simple scripting language for writing text-based games, ChoiceScript, which we make available to others for use in their projects, and we host games produced by other designers using ChoiceScript on our website. All of our games are available on the web. We also produce mobile versions of our games that can be played on iPhones, Android phones, and other smartphones.
We announce new games on our blog, Twitter, Facebook, and Google Plus.
More about Choice of Games LLC