Credits
Writer: David Monster
Coding: Jim Dattilo
Art: Adrien Valdes
Copy Editing: Brad "J" Warner
Chapter Headers: Paul Wang
Beta Testers: Angel Aria, Gloves Belanger, Jason Book-Symons, Gabrielle Brown, John Carr, Tamara Diaz, Luca Jackson, Kaleton Martinson, Aphrodite Nikou, Andrew Parker, Francois Penullar, Dylan Rheuark, Gabriela Santiago, Angelina Smith, Jennifer Speerstra, Phuong Thao Vu
Managing Editor: Jason Stevan Hill
ChoiceScript Language Design & Development: Dan Fabulich
"All World Pro Wrestling" is Copyright 2019 David Monster & Jim Dattilo. All rights reserved.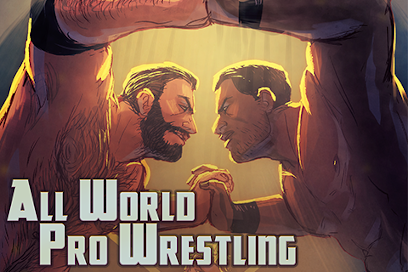 About the Author
David Monster is a Writer and Filmmaker. He also hosts a comedy podcast called The Unimaginary Friendcast. You're sure to hear him talk about this game in a few of the episodes.
A fan of the funny men of Indy Pro Wrestling, he's met or worked with a few wrestlers, including some from Adult M4M sites, like Cameron Matthews from Wrestler4Hire, who has a cameo in his Gay Pro Wresting Novel, ROWDY ARMSTRONG 2: Pro Wrestling Rookie, on which this game is based.
Special thanks to Jim Dattilo for affording me this opportunity, teaching me how to create this game, and making me a better writer. Without him, this game would not exist.
About the Coder
Jim Dattilo is the author of the Zombie Exodus series for Hosted Games and A Wise Use of Time for Choice of Games. He studied English Literature and Biology at La Salle University in Philadelphia, where he currently lives with his wife, Vicki, and his pit bull, Cody.
About Heart's Choice LLC
Hearts Choice LLC is a Delaware Limited Liability Company dedicated dedicated to producing high-quality, text-based, multiple-choice romance games using ChoiceScript. All of our games are available on the web. We also produce mobile versions of our games that can be played on iPhones, Android phones, and other smartphones. to producing high-quality, text-based, multiple-choice games.
We announce new games on our website, Twitter, Facebook, and tumblr.
More about Heart's Choice LLC's privacy policy.