Credits
Writer: Zachary Sergi
Art: Alexandra Tagkali
Copy Editing: Casey Butterfield
Beta Testers: Gloves Belanger, Gesine Betker, Mouse Elisedd, Savoy Collier, Casey Davis, Robert Emery, Gene Lomarquez, Joshua Manning, Benjamin Myrstad, Hownisha Reed, Jessica Steyn, Justin Tanner, Eric Thomas, Joshua Tubbs, Logan Williams.
Managing Editor: Jason Stevan Hill
ChoiceScript Language Design & Development: Dan Fabulich
Dedication
This book, as always, is dedicated to everyone who made it possible: my family, friends, Choice of Games, and all of you loyal Hero Risers out there!
Choice of Games Titles by Zachary Sergi
Heroes Rise Presents:
THE HERO PROJECT DUOLOGY
The Hero Project: Redemption Season (Book One)
The Hero Project: Open Season (Book Two)
THE HEROES RISE TRILOGY:
Heroes Rise: The Prodigy (Book One)
Heroes Rise: The Hero Project (Book Two)
Heroes Rise: HeroFall (Book Three)
THE VERSUS SERIES:
Versus: The Lost Ones (Book One)
Versus: The Elite Trials (Book Two)
"The Hero Project: Open Season" is Copyright 2018 Choice of Games. All rights reserved.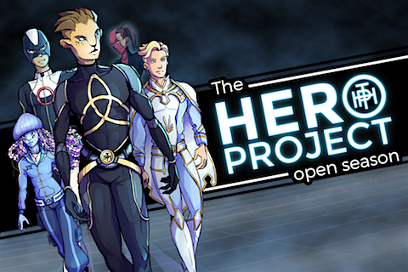 About the Author
Zachary Sergi is a television and fiction writer. He is the author of The Heroes Rise Trilogy, The Hero Project Duology, and The VERSUS Series. Zachary grew up in New York City and studied writing at the University of Pennsylvania. He currently lives in Los Angeles, where he writes his Choice of Games projects and develops pilots for TV.
About Choice of Games LLC
Choice of Games LLC is a California Limited Liability Company dedicated to producing high-quality, text-based, multiple-choice games. We produce games in house, including Choice of the Dragon and Choice of Broadsides. We have also developed a simple scripting language for writing text-based games, ChoiceScript, which we make available to others for use in their projects, and we host games produced by other designers using ChoiceScript on our website. All of our games are available on the web. We also produce mobile versions of our games that can be played on iPhones, Android phones, and other smartphones.
We announce new games on our blog, Twitter, Facebook, and Google Plus.
More about Choice of Games LLC