Credits
Writer: Zachary Sergi
Art: Alexandra Tagkali
Copy Editing: Casey Butterfield
Beta Testers: Mouse Elisedd, Emily Conn, Christine Cottle, Jennifer Cutshall, Jay Elias, Nora Feinstein, Jeana Kolson, Julia Rubin, AJ Solis.
Managing Editor: Jason Stevan Hill
YouPower Project Writer: Michael Alan Nelson
ChoiceScript Language Design & Development: Dan Fabulich
"The Hero Project: Redemption Season" is Copyright 2016 Choice of Games. All rights reserved.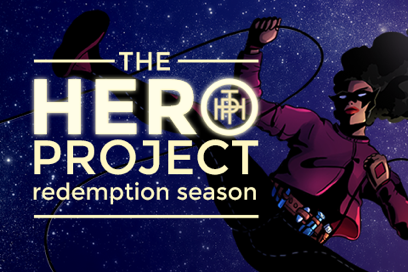 Heroes Rise Social Media
Like Heroes Rise on Facebook and Twitter!
Hero News from Millennia City
Game Tips
Q&A Sessions
Exclusive Content
Fan Shout Outs
Important Heroes Rise Updates
Author's Dedication
Redemption Season is for all of you Hero Risers--without your support, we wouldn't exist. As long as you keep asking for more, I'll keep writing. Special thanks to Adrienne Rosado, Jason Stevan Hill, Dan Fabulich, Kevin Donahue, Amanda Burnett and my ever-supportive family and friends!
About the Author
Zachary Sergi is a television and fiction writer. He is the author of The Heroes Rise Trilogy, The VERSUS Series and this new Heroes Rise Trilogy: The Hero Project. Zachary grew up in New York City and studied writing at the University of Pennsylvania. He currently lives in Los Angeles, where he writes his Choice of Games projects and develops pilots for TV.
In partnership with Choice of Games, Zachary Sergi auctioned off the naming rights to a character to benefit My Friend's Place, a Los Angeles shelter for homeless teens. Nathan Mubasher won the auction and named the character "Nathan Mubasher, Codename: Exile."
Zachary Sergi's Choice of Games Titles
THE VERSUS SERIES
Versus: The Elite Trials (Book Two) (Expected Release: Winter 2016)
THE HEROES RISE TRILOGY
THE HERO PROJECT TRILOGY
The Hero Project: Redemption Season (Book One)
The Hero Project: (Book Two) (Expected Release: 2017)
About Choice of Games LLC
Choice of Games LLC is a California Limited Liability Company dedicated to producing high-quality, text-based, multiple-choice games. We produce games in house, including Choice of the Dragon and Choice of Broadsides. We have also developed a simple scripting language for writing text-based games, ChoiceScript, which we make available to others for use in their projects, and we host games produced by other designers using ChoiceScript on our website. All of our games are available on the web. We also produce mobile versions of our games that can be played on iPhones, Android phones, and other smartphones.
We announce new games on our blog, Twitter, Facebook, and Google Plus.
More about Choice of Games LLC
Some versions of this game were built using the Chromium Embedded Framework, Copyright (c) 2008-2013 Marshall A. Greenblatt. Portions Copyright (c) 2006-2009 Google Inc. All rights reserved.
Redistribution and use of the Chromium Embedded Framework in source and binary forms, with or without modification, are permitted provided that the following conditions are met:
Redistributions of source code must retain the above copyright notice, this list of conditions and the following disclaimer.
Redistributions in binary form must reproduce the above copyright notice, this list of conditions and the following disclaimer in the documentation and/or other materials provided with the distribution.
Neither the name of Google Inc. nor the name Chromium Embedded Framework nor the names of its contributors may be used to endorse or promote products derived from this software without specific prior written permission.
THIS SOFTWARE IS PROVIDED BY THE COPYRIGHT HOLDERS AND CONTRIBUTORS "AS IS" AND ANY EXPRESS OR IMPLIED WARRANTIES, INCLUDING, BUT NOT LIMITED TO, THE IMPLIED WARRANTIES OF MERCHANTABILITY AND FITNESS FOR A PARTICULAR PURPOSE ARE DISCLAIMED. IN NO EVENT SHALL THE COPYRIGHT OWNER OR CONTRIBUTORS BE LIABLE FOR ANY DIRECT, INDIRECT, INCIDENTAL, SPECIAL, EXEMPLARY, OR CONSEQUENTIAL DAMAGES (INCLUDING, BUT NOT LIMITED TO, PROCUREMENT OF SUBSTITUTE GOODS OR SERVICES; LOSS OF USE, DATA, OR PROFITS; OR BUSINESS INTERRUPTION) HOWEVER CAUSED AND ON ANY THEORY OF LIABILITY, WHETHER IN CONTRACT, STRICT LIABILITY, OR TORT (INCLUDING NEGLIGENCE OR OTHERWISE) ARISING IN ANY WAY OUT OF THE USE OF THIS SOFTWARE, EVEN IF ADVISED OF THE POSSIBILITY OF SUCH DAMAGE.