Credits
Writer: Zachary Sergi
Art: Vasilis Lolos
Copy Editing: Calista Brill
Headers: Paul Wang
Beta Testers: Xan Banffy, Julie Barcia, Jennifer Cutshall, Daniel DeNicola, Caitlyn Floyd, Michael Gedeon, Fairy Godfeather, Yanick Goossens, Sven Hesse, Anthony Kraus, AJ Solis, Elizabeta Stamenkovic
Managing Editor: Jason Stevan Hill
ChoiceScript Language Design & Development: Dan Fabulich
"Heroes Rise: HeroFall" is Copyright 2014 Choice of Games. All rights reserved.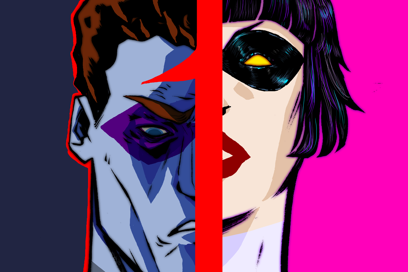 Heroes Rise Social Media
Like Heroes Rise on Facebook and Twitter!
Hero News from Millennia City
Game Tips
Q&A Sessions
Exclusive Content
Fan Shout Outs
Important Heroes Rise Updates
About the Author
Zachary Sergi is a television and fiction writer. He specializes in science fiction/genre and dramatic content for Young and New Adult audiences and has written for Choice of Games and The Disney Channel. Zachary grew up in New York City and studied writing at the University of Pennsylvania. He currently lives in Los Angeles, where he is writing a new series for Choice of Games (VERSUS, scheduled to publish in 2015) and working on several other prospective fiction and television projects.
HeroFall is dedicated to all those who made this trilogy possible: everyone at Choice of Games, agent extraordinaire Adrienne Rosado, manager mastermind Kevin Donahue, my incredible friends and family, my ever-supportive parents, and most importantly, all of the Heroes Rise fans—there wouldn't be a trilogy without all of the support, positive reviews and feedback from all of our loyal Hero Risers!
About Choice of Games LLC
Choice of Games LLC is a California Limited Liability Company dedicated to producing high-quality, text-based, multiple-choice games. We produce games in house, including Choice of the Dragon and Choice of Broadsides. We have also developed a simple scripting language for writing text-based games, ChoiceScript, which we make available to others for use in their projects, and we host games produced by other designers using ChoiceScript on our website. All of our games are available on the web. We also produce mobile versions of our games that can be played on iPhones, Android phones, and other smartphones.
We announce new games on our blog, Twitter, Facebook, and Google Plus.
More about Choice of Games LLC
Some versions of this game were built using the Chromium Embedded Framework, Copyright (c) 2008-2013 Marshall A. Greenblatt. Portions Copyright (c) 2006-2009 Google Inc. All rights reserved.
Redistribution and use of the Chromium Embedded Framework in source and binary forms, with or without modification, are permitted provided that the following conditions are met:
Redistributions of source code must retain the above copyright notice, this list of conditions and the following disclaimer.
Redistributions in binary form must reproduce the above copyright notice, this list of conditions and the following disclaimer in the documentation and/or other materials provided with the distribution.
Neither the name of Google Inc. nor the name Chromium Embedded Framework nor the names of its contributors may be used to endorse or promote products derived from this software without specific prior written permission.
THIS SOFTWARE IS PROVIDED BY THE COPYRIGHT HOLDERS AND CONTRIBUTORS "AS IS" AND ANY EXPRESS OR IMPLIED WARRANTIES, INCLUDING, BUT NOT LIMITED TO, THE IMPLIED WARRANTIES OF MERCHANTABILITY AND FITNESS FOR A PARTICULAR PURPOSE ARE DISCLAIMED. IN NO EVENT SHALL THE COPYRIGHT OWNER OR CONTRIBUTORS BE LIABLE FOR ANY DIRECT, INDIRECT, INCIDENTAL, SPECIAL, EXEMPLARY, OR CONSEQUENTIAL DAMAGES (INCLUDING, BUT NOT LIMITED TO, PROCUREMENT OF SUBSTITUTE GOODS OR SERVICES; LOSS OF USE, DATA, OR PROFITS; OR BUSINESS INTERRUPTION) HOWEVER CAUSED AND ON ANY THEORY OF LIABILITY, WHETHER IN CONTRACT, STRICT LIABILITY, OR TORT (INCLUDING NEGLIGENCE OR OTHERWISE) ARISING IN ANY WAY OUT OF THE USE OF THIS SOFTWARE, EVEN IF ADVISED OF THE POSSIBILITY OF SUCH DAMAGE.