Credits
Writer: Lee Williams
Beta Testers: Daria Amelina, Jeron Asis, Victor Chen, Allie Clark, Ian Crider, Marcus Dwayne, Lorenzo Fabio, Higor Goltara, Nestor Ilano, Lachlan McLaren, Luc Meyer, Aphrodite Nikou, Beatriz Oliveira, Jerusha Ong, Ramidel, Dylan Rheuark
Managing Editor: Mary Duffy
Copy Editing: Kris Ligman
Art: Carlo Tartaglia
ChoiceScript Language: Dan Fabulich
"Ironheart" is Copyright 2020 Lee Williams. All rights reserved.
Lee Williams is a writer, teacher, games developer and failed bon vivant. He lives quietly on an island. He's very grateful to Dr. Helen Swift for her help with the game's Medieval French translations and allen trivette for all his advice and support.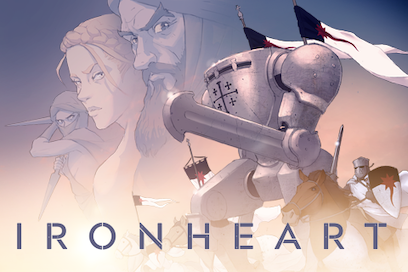 About Choice of Games LLC
Choice of Games LLC is a California Limited Liability Company dedicated to producing high-quality, text-based, multiple-choice games. We produce games in house, including Choice of the Dragon and Choice of Broadsides. We have also developed a simple scripting language for writing text-based games, ChoiceScript, which we make available to others for use in their projects, and we host games produced by other designers using ChoiceScript on our website. All of our games are available on the web. We also produce mobile versions of our games that can be played on iPhones, Android phones, and other smartphones.
We announce new games on our blog, Twitter, Facebook, and Google Plus.
More about Choice of Games LLC