Credits
Writer: Ben Serviss
Art: Jason Wiser
Copy Editing: Joshua Yearsley
Beta Testers: Chirag Asnani, Mouse Elisedd, Ric Chaz, Tamara Diaz, Robert Eppley, Richard Evans, Elizabeta Stamenkovic, Barbara Vogler.
Managing Editor: Jason Stevan Hill
ChoiceScript Language Design & Development: Dan Fabulich
"The Last Monster Master" is Copyright 2014 Ben Serviss. All rights reserved.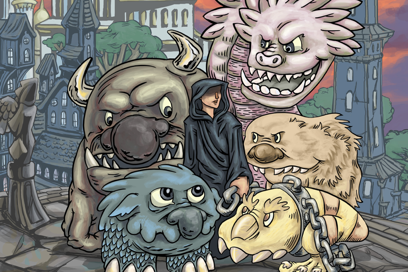 About the Author
Ben Serviss is a game designer, writer and software engineer from New York. He makes games with indie game developer collective Studio Mercato.
About Choice of Games LLC
Choice of Games LLC is a California Limited Liability Company dedicated to producing high-quality, text-based, multiple-choice games. We produce games in house, including Choice of the Dragon and Choice of Broadsides. We have also developed a simple scripting language for writing text-based games, ChoiceScript, which we make available to others for use in their projects, and we host games produced by other designers using ChoiceScript on our website. All of our games are available on the web. We also produce mobile versions of our games that can be played on iPhones, Android phones, and other smartphones.
We announce new games on our blog, Twitter, Facebook, and Google Plus.
More about Choice of Games LLC