Credits
Writer: Anaea Lay
Beta Testers: Dale Barraclough, Minnie Carols, Eric Chin, Allie Clark, Nick Cotton, Michelle Fakrogha, Charvi Kumar, Himanshu Mehta, Jay Merrell, Elizabeth Moody-Stuart, Patrick Ross, Jeremiah Sanchez, Sonny Shouse, Kayla Tuttle, Terrell Williams
Managing Editor: Jason Stevan Hill
Copy Editing: Kris Ligman
Art: Phill Simpson
ChoiceScript Language: Dan Fabulich
"Light Years Apart" is Copyright 2020 Anaea Lay. All rights reserved.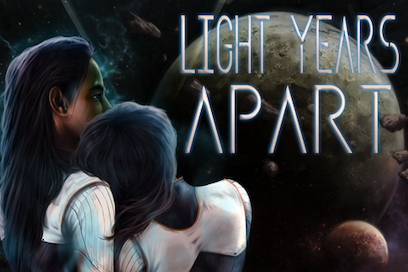 About the Author
Anaea Lay is an enthusiastic player of board games, reader of books, and writer of things. She's the author of Gilded Rails. As the fiction podcast editor for Strange Horizons, you can hear her reading a new story nearly every week. She lives in Chicago, Illinois, where she won the jackpot by securing a job that requires her to commute by train. She does business planning for fun, and lives with a cat who clearly hates her.
About Choice of Games LLC
Choice of Games LLC is a California Limited Liability Company dedicated to producing high-quality, text-based, multiple-choice games. We produce games in house, including Choice of the Dragon and Choice of Broadsides. We have also developed a simple scripting language for writing text-based games, ChoiceScript, which we make available to others for use in their projects, and we host games produced by other designers using ChoiceScript on our website. All of our games are available on the web. We also produce mobile versions of our games that can be played on iPhones, Android phones, and other smartphones.
We announce new games on our blog, Twitter, Facebook, and Google Plus.
More about Choice of Games LLC