Credits
Writer: M. Darusha Wehm
Art: George Cotronis
Copy Editing: Kirsten Hipsky
Beta Testers: Daria Amelina, Natalia Carmo, Keith Cork, Orestes Gatsios, Jasmine Grand, Kateřina Kurelová, Andy Ling, Shiloh McKinnon, Cole Nixon, Veronika Rischel, Gyana Ranjan Rout, Arthur Sen, Cheryl Tay, Eric Thomas, Kenza Tounzi
Managing Editor: Rebecca Slitt
ChoiceScript Language Design & Development: Dan Fabulich
"The Martian Job" is Copyright 2018 M. Darusha Wehm. All rights reserved.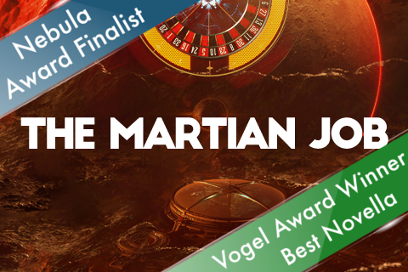 About the Author
Darusha writes science fiction and speculative poetry as M. Darusha Wehm and mainstream poetry and fiction as Darusha Wehm. Science fiction books include: Beautiful Red, Children of Arkadia and the Andersson Dexter cyberpunk detective series. Mainstream books include the Devi Jones' Locker Young Adult series and The Home for Wayward Parrots.
Darusha's short fiction and poetry have appeared in many venues, including Terraform, Nature, Escape Pod, and several anthologies.
Originally from Canada, Darusha currently lives in Wellington, New Zealand after spending the past several years sailing the Pacific.
About Choice of Games LLC
Choice of Games LLC is a California Limited Liability Company dedicated to producing high-quality, text-based, multiple-choice games. We produce games in house, including Choice of the Dragon and Choice of Broadsides. We have also developed a simple scripting language for writing text-based games, ChoiceScript, which we make available to others for use in their projects, and we host games produced by other designers using ChoiceScript on our website. All of our games are available on the web. We also produce mobile versions of our games that can be played on iPhones, Android phones, and other smartphones.
We announce new games on our blog, Twitter, Facebook, and Google Plus.
More about Choice of Games LLC