Credits
Writer: Kreg Segall
Art: Nilah Magruder
Copy Editing: Dennis Higbee
Chapter Headings: Paul Wang
Beta Testers: Jezzi Ambrosio, Millie Antwi, Chad Bergeron, Laura Boylan, Aileen Chua, Emily Conn, Jennifer Cutshall, Rohie Daffeh, Tamara Diaz, Robert Emery, Ed Freedman, Ludivine Grégoire, Evelyne Ivania Lee, Rowan Lipkovits, Aaron Newman, R. Eric Reuss, David Sheridan, Lisa Skowronek, Jefferson Sucharew, Barbara Vogler, Terrell Williams.
Managing Editor: Rebecca Slitt
ChoiceScript Language Design & Development: Dan Fabulich
"A Midsummer Night's Choice" is Copyright 2016 Kreg Segall. All rights reserved.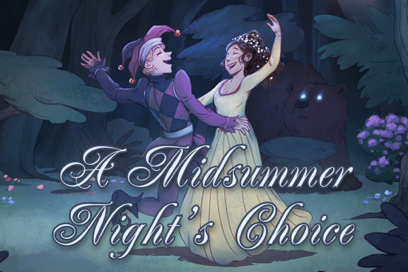 About the Author
Kreg Segall is Associate Professor of English at Regis College, in Massachusetts, where he teaches and writes about medieval and Renaissance literature. In addition to his scholarly work on Shakespeare and Spenser, he has been writing live role-playing games for over twenty years.
About Choice of Games LLC
Choice of Games LLC is a California Limited Liability Company dedicated to producing high-quality, text-based, multiple-choice games. We produce games in house, including Choice of the Dragon and Choice of Broadsides. We have also developed a simple scripting language for writing text-based games, ChoiceScript, which we make available to others for use in their projects, and we host games produced by other designers using ChoiceScript on our website. All of our games are available on the web. We also produce mobile versions of our games that can be played on iPhones, Android phones, and other smartphones.
We announce new games on our blog, Twitter, Facebook, and Google Plus.
More about Choice of Games LLC