Credits
Writer: Gavin Inglis
Art: Ron Chan
Copy Editing: Karen Noel Hearn
Beta Testers: Fairy Godfeather, Horace Torys
Managing Editor: Jason Stevan Hill
ChoiceScript Language Design & Development: Dan Fabulich
"Neighbourhood Necromancer" is Copyright 2014 Gavin Inglis. All rights reserved.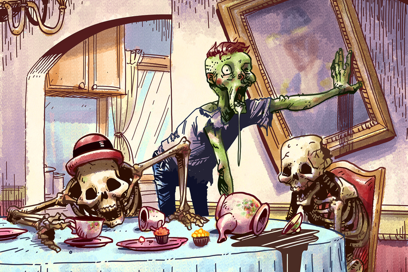 About the Author
Gavin Inglis is a writer, teacher, and performer based in Edinburgh, Scotland. He writes for the smartphone fitness game, "Zombies, Run!" and his short fiction has appeared in "Nova Scotia," "Read By Dawn," and "The Seven Wonders of Scotland." A regular face on the spoken word circuit, Gavin has appeared at Literary Death Match; the Latitude festival; burlesque events; the Edinburgh Book, Fringe and Science Festivals; punk gigs; a Hunter S. Thompson tribute night and a roller derby fundraiser. His work appears on albums by the Glasgow band Spylab and Cinephile.
Gavin has a long-term interest in storytelling in new forms, and works with music, photography, and magic. His collection, "Crap Ghosts" contains several stories of ineffective apparitions and substandard spooks.
He previously authored Eerie Estate Agent, the world's first supernatural rental sim, for Choice of Games. He dedicates "Neighbourhood Necromancer" to Ali Maloney: writer, actor, father, necromancer.
About Choice of Games LLC
Choice of Games LLC is a California Limited Liability Company dedicated to producing high-quality, text-based, multiple-choice games. We produce games in house, including Choice of the Dragon and Choice of Broadsides. We have also developed a simple scripting language for writing text-based games, ChoiceScript, which we make available to others for use in their projects, and we host games produced by other designers using ChoiceScript on our website. All of our games are available on the web. We also produce mobile versions of our games that can be played on iPhones, Android phones, and other smartphones.
We announce new games on our blog, Twitter, Facebook, and Google Plus.
More about Choice of Games LLC