Credits
Writer: Danielle Goudeau
Art: Jeff Dee
Copy Editing: Joshua Yearsley
Beta Testers: Leslie Bearid, Chris Brecheen, Emily Conn, Erik Dahl, FairyGodfeather, Tom Hogan, Sam Hunter, Katzchenne, Joshua Manning, MaraJade, Alonzo McGhee, Ramidel, Dar Rivkin, Calvin Scott, Elizabeta Stamenkovic, Victoria Struth, Timmy, Horace Torys, Barbara V., Jane Wang, Michael Davis Wilson.
Managing Editor: Adam H. Strong-Morse
ChoiceScript Language Design & Development: Dan Fabulich
"Choice of the Petal Throne" is Copyright 2015 Danielle Goudeau. All rights reserved.
Tékumel™ and Empire of the Petal Throne™ are trademarks of M.A.R. Barker and are used with permission of the Tékumel Foundation. For additional information, please visit www.tekumelfoundation.org.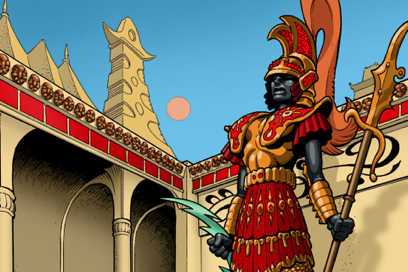 About the Author
Danielle is a scientist with enthusiasm for gaming in its various forms, from board to table-top to computer. Her previous writing has taken the form of intricately plotted larps, but she decided to try her hand at interactive fiction in her favorite RPG setting. She lives in the San Francisco Bay Area with her husband and a very dumb dog, where she manages to fit in some baking and vintage dance in between the relentless geekery.
Special Thanks
Thanks to my husband, Theron Goudeau, for acting as the resident Tékumel and grammar expert, and to the Tékumel Foundation for supporting this project.
About Choice of Games LLC
Choice of Games LLC is a California Limited Liability Company dedicated to producing high-quality, text-based, multiple-choice games. We produce games in house, including Choice of the Dragon and Choice of Broadsides. We have also developed a simple scripting language for writing text-based games, ChoiceScript, which we make available to others for use in their projects, and we host games produced by other designers using ChoiceScript on our website. All of our games are available on the web. We also produce mobile versions of our games that can be played on iPhones, Android phones, and other smartphones.
We announce new games on our blog, Twitter, Facebook, and Google Plus.
More about Choice of Games LLC
Some versions of this game were built using the Chromium Embedded Framework, Copyright (c) 2008-2013 Marshall A. Greenblatt. Portions Copyright (c) 2006-2009 Google Inc. All rights reserved.
Redistribution and use of the Chromium Embedded Framework in source and binary forms, with or without modification, are permitted provided that the following conditions are met:
Redistributions of source code must retain the above copyright notice, this list of conditions and the following disclaimer.
Redistributions in binary form must reproduce the above copyright notice, this list of conditions and the following disclaimer in the documentation and/or other materials provided with the distribution.
Neither the name of Google Inc. nor the name Chromium Embedded Framework nor the names of its contributors may be used to endorse or promote products derived from this software without specific prior written permission.
THIS SOFTWARE IS PROVIDED BY THE COPYRIGHT HOLDERS AND CONTRIBUTORS "AS IS" AND ANY EXPRESS OR IMPLIED WARRANTIES, INCLUDING, BUT NOT LIMITED TO, THE IMPLIED WARRANTIES OF MERCHANTABILITY AND FITNESS FOR A PARTICULAR PURPOSE ARE DISCLAIMED. IN NO EVENT SHALL THE COPYRIGHT OWNER OR CONTRIBUTORS BE LIABLE FOR ANY DIRECT, INDIRECT, INCIDENTAL, SPECIAL, EXEMPLARY, OR CONSEQUENTIAL DAMAGES (INCLUDING, BUT NOT LIMITED TO, PROCUREMENT OF SUBSTITUTE GOODS OR SERVICES; LOSS OF USE, DATA, OR PROFITS; OR BUSINESS INTERRUPTION) HOWEVER CAUSED AND ON ANY THEORY OF LIABILITY, WHETHER IN CONTRACT, STRICT LIABILITY, OR TORT (INCLUDING NEGLIGENCE OR OTHERWISE) ARISING IN ANY WAY OUT OF THE USE OF THIS SOFTWARE, EVEN IF ADVISED OF THE POSSIBILITY OF SUCH DAMAGE.