Credits
Writer: Alana Joli Abbott
Art: Nilah Magruder
Copy Editing: Joshua Yearsley
Beta Testers: Candice Archie, Paul Badics, Felicity Banks, Mouse Bowden, Aileen Chua, Emily Conn, Dustin Curtin, Jennifer Cutshall, Georgia Darcie, Mike Harrison, Amril Haziq, Jaime Herrera, Maxine Janerka, Electra Jones, James Kircher, Alexandra McCarthy, Oscar Møller, Cody Percell, Ed Phillips, Matt Potter, Ramidel, Kari Riihimaki, Telsiya Rudolph, Jared S., James Spencer, AJ Solis, Horace Torys, Troy, Kristijan Turković, Barbara Vogler, Mike Walter, Megan Weeks-Marshall.
Managing Editor: Rebecca Slitt
ChoiceScript Language Design & Development: Dan Fabulich
"Choice of the Pirate" is Copyright 2016 Choice of Games. All rights reserved.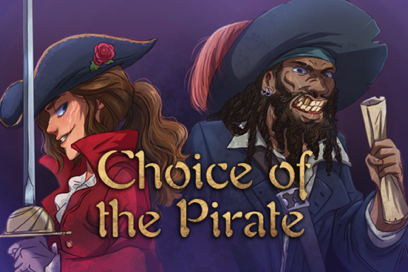 About the Author
Alana Joli Abbott is a novelist and the game designer behind Choice of Games titles Choice of Kung Fu and Showdown at Willow Creek. She is the author of three fantasy novels: Into the Reach, Redemption, and Regaining Home, and her game writing has been featured in Steampunk Musha, the award-winning Serenity Adventures, and Dungeon and Dragon magazines. Although Alana is not a pirate, she does enjoy singing sea shanties, sailing, and visiting nearby Mystic Seaport in Mystic, CT, where she is sometimes known to say "Arrrr!"
About Choice of Games LLC
Choice of Games LLC is a California Limited Liability Company dedicated to producing high-quality, text-based, multiple-choice games. We produce games in house, including Choice of the Dragon and Choice of Broadsides. We have also developed a simple scripting language for writing text-based games, ChoiceScript, which we make available to others for use in their projects, and we host games produced by other designers using ChoiceScript on our website. All of our games are available on the web. We also produce mobile versions of our games that can be played on iPhones, Android phones, and other smartphones.
We announce new games on our blog, Twitter, Facebook, and Google Plus.
More about Choice of Games LLC