Credits
Writer: Stephen Granade
Art: EJ Dela Cruz
Copy Editing: Kirsten Hipsky
Chapter Headers: Paul Wang
Beta Testers: Philippa Bourne, Shrutika Dandekar, Sujan Dhakal, Jane Edwards, Marissa Faith, Shannon Fan, Lillian Finegold-Sachs, Arielle Ganon, Frey Harvey, hiii1411, Paula Hunter, Kevin Kao, Rowan Kelly, Aletheia Knights, Jerry Ong, Derek Randolph, Ruby Romph, Lee Stapleton, India Taylor
Managing Editor: Mary Duffy
ChoiceScript Language: Dan Fabulich
"Professor of Magical Studies" is Copyright 2022 Stephen Granade. All rights reserved.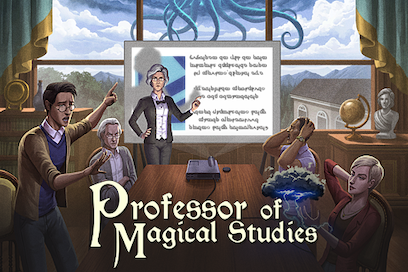 About the Author
Stephen Granade is a writer, award-winning game developer, and physicist living in Huntsville, Alabama, the town whose skyline includes a Saturn V rocket. His short stories have appeared in Baffling Magazine and, most recently, Cast of Wonders. He's talked science on the Discovery Channel and on YouTube for NASA. You can follow him on Twitter and Mastodon.
About Choice of Games LLC
Choice of Games LLC is a California Limited Liability Company dedicated to producing high-quality, text-based, multiple-choice games. We produce games in house, including Choice of the Dragon and Choice of Broadsides. We have also developed a simple scripting language for writing text-based games, ChoiceScript, which we make available to others for use in their projects, and we host games produced by other designers using ChoiceScript on our website. All of our games are available on the web. We also produce mobile versions of our games that can be played on iPhones, Android phones, and other smartphones.
We announce new games on our blog, Twitter, Facebook, and Google Plus.
More about Choice of Games LLC