Credits
Writer: Rebecca Slitt
Art: Adrienne Valdes
Copy Editing: Chris Wolfgang
Beta Testers: Gloves Belanger, Jason Book-Symons, Gabrielle Brown, Natalia Carmo, Matthew Chen, Eric Chin, James DeGaray, Melissa Franklin, Auden Ji, Peter Kent, Raequan King, Danielle Laure-Smith, Michelle Leonard, Andy Lin, Lysander_Xen, Brittany Martin, Mohammed Mahmoud, Trevor McKenzie, Samantha Murphy, Aphrodite Nikou, Mikayla Parsons, Ramidel, Macy S., Calvin Scott, Sonny Shouse, Angelina Smith, AJ Solis, Camila Solivo, Jennifer Speerstra, Victoria Struth, Eric Thomas, Kenza Tounzi, Sydney Wheeler
Managing Editor: Jason Hill
ChoiceScript Language Design & Development: Dan Fabulich
"Psy High 2: High Summer" is Copyright 2019 Rebecca Slitt. All rights reserved.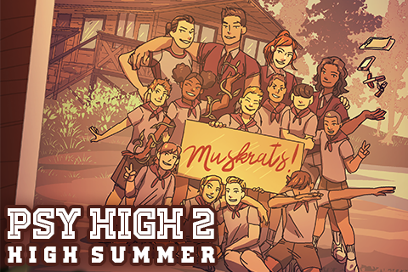 About the Author
Rebecca Slitt is an editor and partner at Choice of Games LLC, and a contributor to tabletop and live-action roleplaying games including Timewatch RPG, New World Magischola, and Noirlandia. In her previous career, she was a professor of medieval history specializing in 12th-century aristocratic culture. Now, she draws on that knowledge to advise time travelers on the best places to get takeout in medieval London, and to ensure that dragon jousts are conducted according to chivalric principles.
About Choice of Games LLC
Choice of Games LLC is a California Limited Liability Company dedicated to producing high-quality, text-based, multiple-choice games. We produce games in house, including Choice of the Dragon and Choice of Broadsides. We have also developed a simple scripting language for writing text-based games, ChoiceScript, which we make available to others for use in their projects, and we host games produced by other designers using ChoiceScript on our website. All of our games are available on the web. We also produce mobile versions of our games that can be played on iPhones, Android phones, and other smartphones.
We announce new games on our blog, Twitter, Facebook, and Google Plus.
More about Choice of Games LLC