Credits
Writer: Natalia Theodoridou
Art: George Cotronis
Copy Editing: Kirsten Hipsky
Beta Testers: Ali Ahmed, Sabrinadiza Balya, Gesine Betker, John Cabage, Emily Conn, Curious_Boy, Elizabeth Graben, Michael Mariamidze, Eric Moser, Victor Nicacio, Christian Price, Jim Ross-Drummond, Calvin Scott, Saloni Singla, Jessica Steyn, Sarah Sun, Eric Thomas, Anni Zhang, Wongalethu Zita.
Managing Editor: Jason Stevan Hill
ChoiceScript Design and Development: Dan Fabulich
"Rent-a-Vice" is Copyright 2018 Natalia Theodoridou. All rights reserved.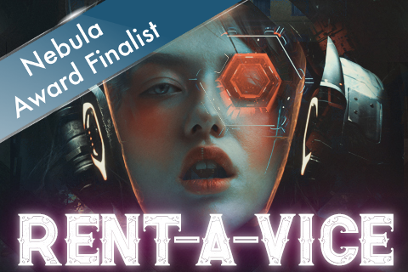 About the Author
Natalia Theodoridou is a media & cultural studies scholar, the dramaturge of Adrift Performance Makers, and a writer of strange stories. Her work has appeared in Clarkesworld, Strange Horizons, Beneath Ceaseless Skies, Apex, Shimmer, and elsewhere. She was shortlisted for the if:Book UK New Media Writing Prize 2017 and is an editor at sub-Q interactive fiction magazine. For more, check out her website.
About Choice of Games LLC
Choice of Games LLC is a California Limited Liability Company dedicated to producing high-quality, text-based, multiple-choice games. We produce games in house, including Choice of the Dragon and Choice of Broadsides. We have also developed a simple scripting language for writing text-based games, ChoiceScript, which we make available to others for use in their projects, and we host games produced by other designers using ChoiceScript on our website. All of our games are available on the web. We also produce mobile versions of our games that can be played on iPhones, Android phones, and other smartphones.
We announce new games on our blog, Twitter, Facebook, and Google Plus.
More about Choice of Games LLC