Credits
Writer: Chris Conley
Portraits: Jerel Dye
Copy Editing: Kara Aisenbrey
Beta Testers: Austin Auclair, Aditya Baishya, William Bryant, Ryan Cheng, Asher Clarke, Wyatt Corbin, Jen DeBoy, Mercedes Diedrichsen, Christopher Duong, Sasha Fenn, Amy Griswold, Jay'morah Johnson, Rick Kelly, Faraz Khan, Cheryl Lewis, Mandie Morrison, Kate Nido, Säde Pesonen, Chris Pierce, Tony Portillo, Producer, Ramidel, Jhenne Tyler
Managing Editor: Jason Stevan Hill
ChoiceScript Language Design & Development: Dan Fabulich
"Révolution Diabolique" is Copyright 2022 Chris Conley. All rights reserved.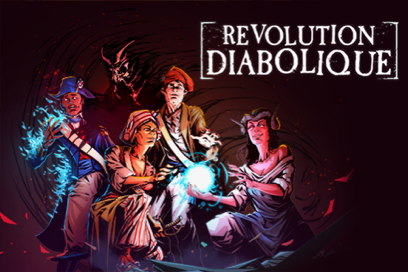 Bibliography
Liberty or Death: The French Revolution, Peter McPhee.
The French Revolution: From Enlightenment to Tyranny, Ian Davidson.
Marie Antoinette's Head: The Royal Hairdresser, the Queen, and the Revolution, Will Bashor.
The Queen's Embroiderer, Joan DeJean.
Napoleon: Solider of Destiny, Michael Broers.
Where the Light Falls, Allison and Owen Pataki.
When the US Spoke French, Francois Furstenberg.
Revolutions Podcast Season 3: The French Revolution, Mike Duncan.
About the Author
Chris Conley is an administrative manager, freelance web developer, and webmaster on the board of a non-profit. He has been writing interactive fiction since he learned to program, and has since been a metalworking apprentice, a vineyard worker in New Zealand, a yoga retreat builder in Hawaii, an IT volunteer for the Peace Corps in Ethiopia, the maintainer of a conversation extension for Inform 7, and the writer and community liaison running a Kickstarter campaign. He lives in his hometown in the Baltimore area.
About Choice of Games LLC
Choice of Games LLC is a California Limited Liability Company dedicated to producing high-quality, text-based, multiple-choice games. We produce games in house, including Choice of the Dragon and Choice of Broadsides. We have also developed a simple scripting language for writing text-based games, ChoiceScript, which we make available to others for use in their projects, and we host games produced by other designers using ChoiceScript on our website. All of our games are available on the web. We also produce mobile versions of our games that can be played on iPhones, Android phones, and other smartphones.
We announce new games on our blog, Twitter, Facebook, and Google Plus.
More about Choice of Games LLC