Credits
Writer: Jonathan Zimmerman
Art: Jason Wiser
Copy Editing: Adina Yoffie
Beta-Testers: Ely Cuff, FairyGodfeather, Dar Rivkin, Zach Thomason, Mike Walter
Continuity Testers: Abigail Green-Dove, Rebecca Slitt, Brad "J" Warner.
Managing Editor: Adam Strong-Morse
ChoiceScript Language Design & Development: Dan Fabulich
"Choice of the Rock Star" is Copyright 2014 Choice of Games. All rights reserved.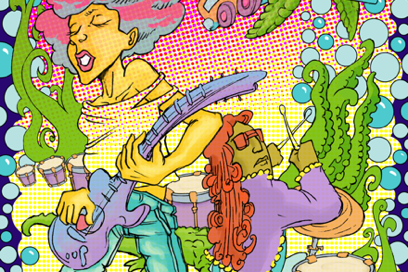 About the Author
Jonathan Zimmerman is a writer living in New York City. He has produced award-winning works for both stage and screen, and is currently penning a feature documentary for Channel Productions. His freelance articles have been published in Salon, The Los Angeles Review of Books, Tablet, and TheWrap, among many others.
As an avid fan of the Vermont rock band Phish, he can also be found blogging for Online Phish Tour and writing for Surrender to the Flow. Some have labeled his drum playing in the videogame Rock Band "expert," but he does it for the love and not the fame.
About Choice of Games LLC
Choice of Games LLC is a California Limited Liability Company dedicated to producing high-quality, text-based, multiple-choice games. We produce games in house, including Choice of the Dragon and Choice of Broadsides. We have also developed a simple scripting language for writing text-based games, ChoiceScript, which we make available to others for use in their projects, and we host games produced by other designers using ChoiceScript on our website. All of our games are available on the web. We also produce mobile versions of our games that can be played on iPhones, Android phones, and other smartphones.
We announce new games on our blog, Twitter, Facebook, and Google Plus.
More about Choice of Games LLC