Credits
Writer: Hannah Powell-Smith
Art: Adrien Valdes
Copy Editing: Kirsten Hipsky
Chapter Headers: Paul Wang
Narrative Testing: Aletheia Knights
Beta Testers: Alter, Deb Apprille, Alyson Babate, Vanessa Barcenes, Kevin Bloomfield, Natalia Carmo, David Chen, Mercedes Diedrichsen, Tileah Dobson, Alexander Espinoza, Arielle Ganon, Ramona Gore, Paula Hunter, Fay Ikin, Justyna Kopycińska, Michelle L, Elliana Lopez, Misa Lynn, Maldoriaaa, Anna Clara Mariz, Abigail McCormick, Raine Megrenio, Brian Miller, Nam Seong Jun, Theodore Nguyen, Imani Nunez, Beatriz Oliveira, Jesselin Ong, Johannes Pan, Säde Pesonen, Hownisha Reed, Alex Roberts, Marney Robinson, Lindsay Roseman, Lee S, Elden Salkeld, Kelly Seastar, Elias Singh, Sumin Sohn, Jennifer Speerstra, Kayla Tuttle, Winter Violante, violet @koldsoba, Maddy Ward, Harry White, Jonathan H. Wilson, Shawn Yap, Julie Youn, Izzati Zulkifli
Managing Editor: Abigail C. Trevor
ChoiceScript Language: Dan Fabulich
"Royal Affairs" is Copyright 2023 Hannah Powell-Smith. All rights reserved.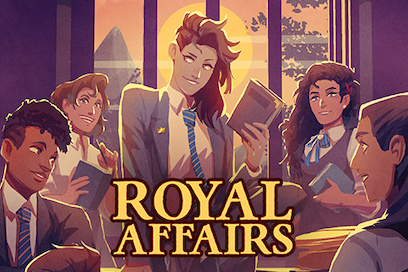 About the Author
Hannah Powell-Smith is a narrative designer and writer whose work often features fraught relationships, social maneuvering, and unknowable entities. They have worked with Choice of Games, Tributary Games, Failbetter Games, Fusebox Games, and more. Find more of their work at hannahpowellsmith.com and hannahps.itch.io. They live in the UK with their wife, child, and two giant cats.
About Choice of Games LLC
Choice of Games LLC is a California Limited Liability Company dedicated to producing high-quality, text-based, multiple-choice games. We produce games in house, including Choice of the Dragon and Choice of Broadsides. We have also developed a simple scripting language for writing text-based games, ChoiceScript, which we make available to others for use in their projects, and we host games produced by other designers using ChoiceScript on our website. All of our games are available on the web. We also produce mobile versions of our games that can be played on iPhones, Android phones, and other smartphones.
We announce new games on our blog, Twitter, Facebook, and Google Plus.
More about Choice of Games LLC