Credits
Writer: Danielle Lauzon
Copy Editing: Kirsten Hipsky
Beta Testers: Mari Anderson, Shreyas Arun, Andy Benson, Freja Bing, Suzanne Bourgeois, Gabrielle Brown, Natalia Carmo, Victor Chen, June Duprez, Alicia Gugele, Varun Gupta, Jacob Hills, Auden Ji, Ethan Lima, Andy Ling, Jonathan Loyd, Felicia Natasha Nicole, Cole Nixon, Arvid Ramstad, Cheryl Tay, Eric Thomas, Inés Souquett, Thomas Vinci
Managing Editor: Rebecca Slitt
ChoiceScript Language Design and Development: Dan Fabulich
"7th Sea: A Pirate's Pact" is Copyright 2018 John Wick Presents. All rights reserved.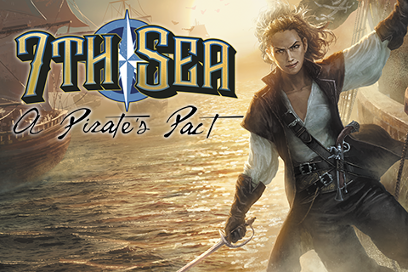 About the Author
Danielle Lauzon is a game designer, writer, developer, gamer, and larper living in Austin, TX with her two dogs, two cats, and one husband. She has worked on table top games from companies such as Onyx Path Publishing, Growling Door Games, Third Eye Games, and of course, John Wick Presents. Her work on 7th Sea: Pirate Nations inspired "A Pirate's Pact" and she's looking forward to more adventures within Théan. When she isn't writing, developing, designing, or otherwise occupied in getting games organized, she is playing games instead.
About Choice of Games LLC
Choice of Games LLC is a California Limited Liability Company dedicated to producing high-quality, text-based, multiple-choice games. We produce games in house, including Choice of the Dragon and Choice of Broadsides. We have also developed a simple scripting language for writing text-based games, ChoiceScript, which we make available to others for use in their projects, and we host games produced by other designers using ChoiceScript on our website. All of our games are available on the web. We also produce mobile versions of our games that can be played on iPhones, Android phones, and other smartphones.
We announce new games on our blog, Twitter, Facebook, and Google Plus.
More about Choice of Games LLC