Credits
Writer: Ben Appleby-Dean
Art: Paola Tuazon
Copy Editing: Chris Wolfgang
Beta Testers: Caio Cesar, Hana Chen, Laurel Davidson, Daniel Durbin, Joe Fung, Nick Jensen, Dani Kay, Chinmayee Magesh, Adhaar Mehrotra, Arda Kemal Okanoglu, Manh Pham, Ramidel, Dylan Rheuark, Chris Shoemaker, Sonny Shouse, Daniel Spinola, Isaiah VanScoy, Sydney Wheeler
Managing Editor: Jason Stevan Hill
ChoiceScript Language: Dan Fabulich
"A Squire's Tale" is Copyright 2020 Ben Appleby-Dean. All rights reserved.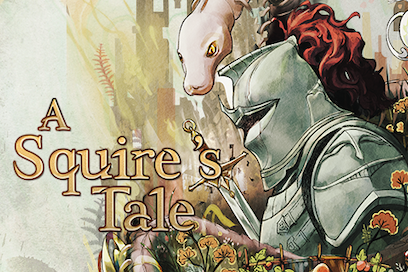 About the Author
Benjamin Appleby-Dean is a complex event sometimes mistaken for a writer. They have produced two novels to date - LAMPLIGHT and THE STICKMAN'S LEGACY - and one poetry collection, COLD STONE SECRECY. When recognisably human, they live in North-East England with their wife and a collection of dysfunctional animals.
About Choice of Games LLC
Choice of Games LLC is a California Limited Liability Company dedicated to producing high-quality, text-based, multiple-choice games. We produce games in house, including Choice of the Dragon and Choice of Broadsides. We have also developed a simple scripting language for writing text-based games, ChoiceScript, which we make available to others for use in their projects, and we host games produced by other designers using ChoiceScript on our website. All of our games are available on the web. We also produce mobile versions of our games that can be played on iPhones, Android phones, and other smartphones.
We announce new games on our blog, Twitter, Facebook, and Google Plus.
More about Choice of Games LLC