Credits
Writer: Alice Ripley
Art: Abigail Larson
Copy Editing: Christopher Piesla
Beta Testers: Daria Amelina, Appoox, Shreyas Arun, Gesine Betker, Victor Chen, Eric Chin, Marta Corti, Ian Crider, James DeGaray, Marta Dakota Dieterlen, Jem Erroba, Gatis Ievins, Veronica Jones, Freddie Moore, George Peery, Revan_Nex, Jim Ross-Drummond, Alexandre Saliba, AJ Solis, Jennifer Speerstra, Cheryl Tay, Kenza Tounzi, Anni Zhang
Managing Editor: Mary Duffy
ChoiceScript Language Design and Development: Dan Fabulich
"The Superlatives: Shattered Worlds" is Copyright 2019 Alice Ripley. All rights reserved.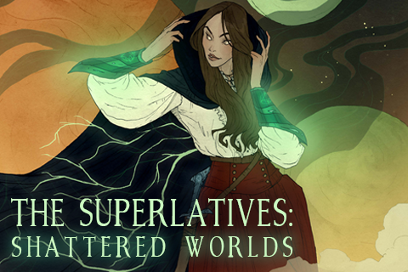 About the Author
Alice Ripley works as a writer and designer in the Pacific Northwest, where the drizzle gives her the perfect excuse to stay indoors with whiskey, books, and cocoa. Sometimes all at once.
About Choice of Games LLC
Choice of Games LLC is a California Limited Liability Company dedicated to producing high-quality, text-based, multiple-choice games. We produce games in house, including Choice of the Dragon and Choice of Broadsides. We have also developed a simple scripting language for writing text-based games, ChoiceScript, which we make available to others for use in their projects, and we host games produced by other designers using ChoiceScript on our website. All of our games are available on the web. We also produce mobile versions of our games that can be played on iPhones, Android phones, and other smartphones.
We announce new games on our blog, Twitter, Facebook, and Google Plus.
More about Choice of Games LLC