Credits
Writer: Joey Donald Jones
Copy Editing: Casey Butterfield
Beta Testers: Conrad Allen, Mikayla Baughman, Mouse Elisedd, Logan Crow, Jennifer Cutshall, Ruben De Castro, Nathan Gilliam, Patricia Go, Guo YiWei, Katherine Heartfield, Lucy Jauristo, Asaliy Joyce, Anubhab Kanra, Rowan Lipkovits, Emma Margeson, Lydia Ong, Dakota Pate, Ramidel, Jim Ross-Drummond, Vishal Shandilya, Samuel Sharp, Saloni Singla, William Thompson, Horace Torys, Megan Weeks-Marshall, Akira Winters.
Chapter Headings: Paul Wang
Managing Editor: Jason Stevan Hill
ChoiceScript Language Design & Development: Dan Fabulich
"Trials of the Thief-Taker" is Copyright 2017 Joey Donald Jones. All rights reserved.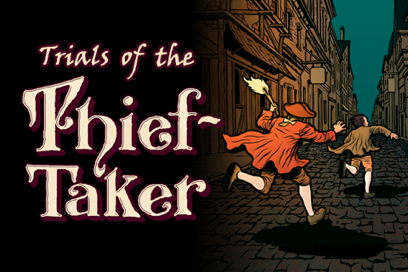 About the Author
Joey Jones writes interactive fiction and co-runs a bookshop. He has been making text-based games for years, recently placing well in the Interactive Fiction competition with the XYZZY-winning fantasy puzzle game, Sub Rosa. He has two philosophy degrees and lives in England, near the sea.
About Choice of Games LLC
Choice of Games LLC is a California Limited Liability Company dedicated to producing high-quality, text-based, multiple-choice games. We produce games in house, including Choice of the Dragon and Choice of Broadsides. We have also developed a simple scripting language for writing text-based games, ChoiceScript, which we make available to others for use in their projects, and we host games produced by other designers using ChoiceScript on our website. All of our games are available on the web. We also produce mobile versions of our games that can be played on iPhones, Android phones, and other smartphones.
We announce new games on our blog, Twitter, Facebook, and Google Plus.
More about Choice of Games LLC