Credits
Writer: Luiza Alves
Beta Testers: Ant_Merf, Arcane_warrior, Catarina Alves, Claimedminotaur, Grace Zajdel, Julia Cohen, Klaus Cavalhieri, M. Frings, Silversentinel, Vilrek, YHGS
Illustrator: Will Jamison
ChoiceScript Language: Dan Fabulich
"After the Storm" is Copyright 2020 Luiza Alves & Will Jamison. All rights reserved.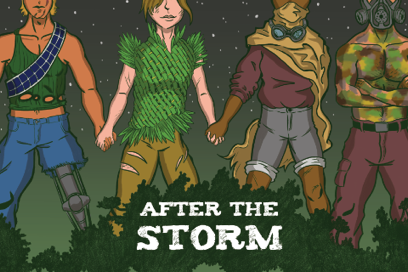 About the Author
Luiza Alves is passionate about conservation and likes to plan imaginary heists when she's bored. She is inherently mistrustful of people who don't like chocolate. She also enjoys volunteering at her local wildlife center in her spare time, where she feels like a princess whenever the baby birds perch on her hand.
About the Illustrator
Will Jamison is a non-binary cartoonist and illustrator based in St. Louis, Missouri. When they aren't drawing the survivors of an apocalypse, they can be found making empowering queer artwork or reading too many books at once. They don't like chocolate and never will. They are on Instagram and Twitter as @thewilljamison.
Special Thanks
We'd like to thank all the wonderful folks who sent feedback on the game via the Choice of Games forum, whose contributions were invaluable to the development of the finished product. We'd also like to thank the people who take the time to read the special thanks. You're the real heroes.
About Choice of Games LLC
Choice of Games LLC is a California Limited Liability Company dedicated to producing high-quality, text-based, multiple-choice games. We produce games in house, including Choice of the Dragon and Choice of Broadsides. We have also developed a simple scripting language for writing text-based games, ChoiceScript, which we make available to others for use in their projects, and we host games produced by other designers using ChoiceScript on our website. All of our games are available on the web. We also produce mobile versions of our games that can be played on iPhones, Android phones, and other smartphones.
We announce new games on our blog, Twitter, Facebook, and Google Plus.
More about Choice of Games LLC