Credits
Writer: Felicity Banks
Beta Testers: addicted, Annabelle, Beezlebub, Ben Crispin, Chris Banks, CrossOver, Carolyn Van Eseltine, Dahia, Jim Dattilo, djisma69, faewkless, Joel Hafvenstein, HitenMitsurugi, idonotlikeusernames, Jjcb, Malebranche, Eric Moser, Nao, NoGo, Amy Sasso, ShadowGod, Shaunheatherly, SniperedSpartan, TamaPochi, Samuel Harrison Young, Wendy, and WubWub117.
Splashscreens: Felicity Banks
Icons: Vince Varga
ChoiceScript Language Design & Development: Dan Fabulich
"Attack of the Clockwork Army" is Copyright 2015 Felicity Banks. All rights reserved.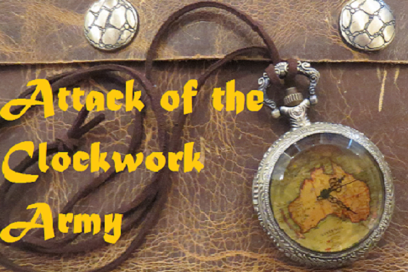 About the Author
Felicity Banks has absolutely, definitely no sentient mechanical body parts. Nope, none. Not even one. And no chainsaw arm. None whatsoever.
Her debut young adult fantasy novel STORMHUNTER will be released in 2016, and her young adult steampunk novel HEART OF BRASS featuring Emmeline Muchamore et al will be released... eventually. Her mailing list via fellissimo@hotmail.com is the best way to know when something new is available.
About Choice of Games LLC
Choice of Games LLC is a California Limited Liability Company dedicated to producing high-quality, text-based, multiple-choice games. We produce games in house, including Choice of the Dragon and Choice of Broadsides. We have also developed a simple scripting language for writing text-based games, ChoiceScript, which we make available to others for use in their projects, and we host games produced by other designers using ChoiceScript on our website. All of our games are available on the web. We also produce mobile versions of our games that can be played on iPhones, Android phones, and other smartphones.
We announce new games on our blog, Twitter, Facebook, and Google Plus.
More about Choice of Games LLC