Credits
Writer: Steve Spalding
Art: Rowena McKay
ChoiceScript Language Design & Development: Dan Fabulich
"Founders Saga: The Culling" is Copyright 2015 Steve Spalding. All rights reserved.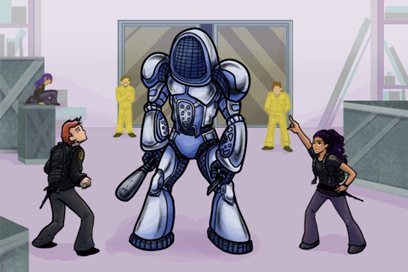 About the Author
Steve Spalding is a writer, traveler, Netflix watcher, Audible listener and all around Internet-type person who occasionally turns words into other more interesting things.
He is currently working on a podcast (www.atthemidnight.com), a comic book (www.relicstheseries.com), and a full length science fiction novel (www.monatheseries.com).
About Choice of Games LLC
Choice of Games LLC is a California Limited Liability Company dedicated to producing high-quality, text-based, multiple-choice games. We produce games in house, including Choice of the Dragon and Choice of Broadsides. We have also developed a simple scripting language for writing text-based games, ChoiceScript, which we make available to others for use in their projects, and we host games produced by other designers using ChoiceScript on our website. All of our games are available on the web. We also produce mobile versions of our games that can be played on iPhones, Android phones, and other smartphones.
We announce new games on our blog, Twitter, Facebook, and Google Plus.
More about Choice of Games LLC