Credits
Writer: Kim Berkley
Beta Testers: Alex, Remy, hustlertwo, Umbreonpanda, Walpurgisnacht, RedHorizon1, Emmelienxd, PhilosoTor, Eli_Knight, nightwing, Greytrap1, Anni_Zhang, Harley_Robin_Evans, COGZealot, Vishnu_Aju
Copy Editing: Mouse Bowden
Art: Raquel Kidd
ChoiceScript Language: Dan Fabulich
"The Harbinger's Head" is Copyright 2018 Kim Berkley. All rights reserved.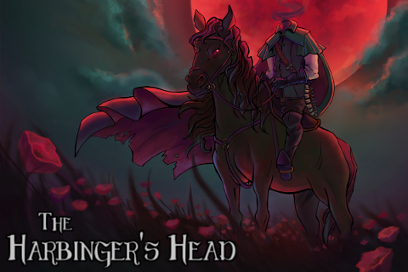 About the Author
Kim Berkley is a wearer of many hats. Some days, she is a rabid gamer and pop culture enthusiast; on others, she's an avid reader and nature lover who frequently suffers from cabin fever. Most of the time, she is a writer. She believes no day is complete without a good story.
Special Thanks
Special thanks to my alpha testers, Mom and Jake, for their undying support.
About Choice of Games LLC
Choice of Games LLC is a California Limited Liability Company dedicated to producing high-quality, text-based, multiple-choice games. We produce games in house, including Choice of the Dragon and Choice of Broadsides. We have also developed a simple scripting language for writing text-based games, ChoiceScript, which we make available to others for use in their projects, and we host games produced by other designers using ChoiceScript on our website. All of our games are available on the web. We also produce mobile versions of our games that can be played on iPhones, Android phones, and other smartphones.
We announce new games on our blog, Twitter, Facebook, and Google Plus.
More about Choice of Games LLC