Credits
Writers: Fernando B Neves and Lucas Zaper
Beta Testers: Jacic, Tuhin_Subhra_Maity, ArchangelVoldemort, Doomspeak, deusvult, Unicornswillcry, Dakota_Bolton, Sleepyowl, alliebee, cyanide, Ian_Short, valentine_v_daygirl, Asura, Camila Darós, José Vinícius da Silva, Julia Hoffmann Buratto and João Daniel Feltrin.
Art: Lucas Zaper
ChoiceScript Language Design & Development: Dan Fabulich
"Highlands, Deep Waters" is Copyright 2017 Hosted Games. All rights reserved.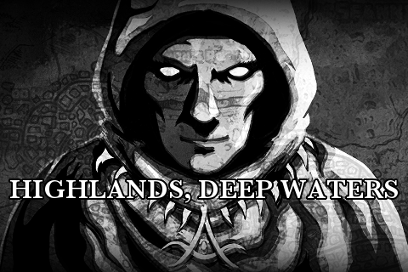 About the Authors
Fernando Bueno Neves and Lucas Zaper are two Brazilians who dislike writing about themselves, but love writing about tentacles and the inevitable embrace of the Abyss. Fernando Bueno Neves is a Bachelor of Medical Science and fifth-year medical student. He worked as a writer and amateur detective consultant. Lucas Zaper worked as everything else, including correcting the bugs created by his colleague.
About Choice of Games LLC
Choice of Games LLC is a California Limited Liability Company dedicated to producing high-quality, text-based, multiple-choice games. We produce games in house, including Choice of the Dragon and Choice of Broadsides. We have also developed a simple scripting language for writing text-based games, ChoiceScript, which we make available to others for use in their projects, and we host games produced by other designers using ChoiceScript on our website. All of our games are available on the web. We also produce mobile versions of our games that can be played on iPhones, Android phones, and other smartphones.
We announce new games on our blog, Twitter, Facebook, and Google Plus.
More about Choice of Games LLC