Credits
Writer: Adrao
Beta Testers: Shoelip, Jacic, FutbolDude21586, Poison_Mara, ShadowForce, Curious_Boy, CodPor, cyanide, Kurvo, HomingPidgeon, ArchangelVoldemort, Eiwynn, Artit_Maloku, ZoilusthePedantic, Dark_Lord_Vul, CultOfCthulhu, SeventhJackel, Classified, Bugreporter, Sabrinadiza_Balya, Bl00dHunter, Haresus, WhiteWolf, Drakeye, SheaMcD, Phoenix_Wolf, AmericanShakespeare, Terrell_Williams, Outrageous, maj12, cascat07, LightningGarfunkel, idonotlikeusernames, Natman1025, adventurekid36, moskus4, nocturne, Equilibrium
Copy Editing: Mouse Bowden
Art: Tiffan Yuet
ChoiceScript Language: Dan Fabulich
"Highway Wars" is Copyright 2018 Adrao. All rights reserved.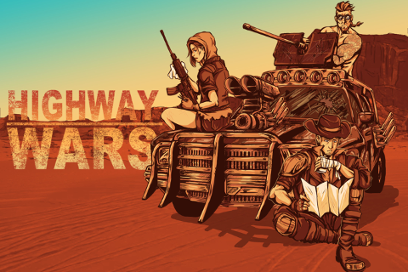 Special Thanks
I would like to express my appreciation to all those who contributed with their comments and feedback to improving this game. That includes Felicity Banks and Cecilia (for the extensive help in other games!), Arsue, Zolotaya, Shoelip Jacic, Eric_Moser, and Lucid at the Choice of Games Forum for the many discussions and insights on interactive game making philosophy. Also thanks to all my friends for the many conversations regarding this game through the last few months, including Eujoo, Zeke, Meg, Kevin, David and Hwan/Juan. I also want to appreciate the support of Hosted Games staff in getting this game out.
About Choice of Games LLC
Choice of Games LLC is a California Limited Liability Company dedicated to producing high-quality, text-based, multiple-choice games. We produce games in house, including Choice of the Dragon and Choice of Broadsides. We have also developed a simple scripting language for writing text-based games, ChoiceScript, which we make available to others for use in their projects, and we host games produced by other designers using ChoiceScript on our website. All of our games are available on the web. We also produce mobile versions of our games that can be played on iPhones, Android phones, and other smartphones.
We announce new games on our blog, Twitter, Facebook, and Google Plus.
More about Choice of Games LLC