Credits
Writer: Brynn Chernosky
Beta Testers: Amr "AAO" Enani, Ben Burwell, Christian Batres, David Byrd, E. Broekhuis, Eric Knight, Stacy Chernosky, Lou, Miranda Stringer, Tom Rayner, Violet Baudelaire, Bookworm435, Djin, EclecticEccentric, Fay, Frogs, GamerDude (lionguy), guardsmen000071, Jumo_004, Koda222, Laha, lokidemon007, Lying_Arsonist, Noran, Nyahaha101, Phoeniz_the_Pirate, Ricemaker, Royrin, Sammysam, Shiaya, Tristin_McComas, Urban, UmraLamia
Art: Brynn Chernosky
ChoiceScript Language Design and Development: Dan Fabulich
"Keeper of the Sun and Moon" is Copyright 2019 Brynn Chernosky. All rights reserved.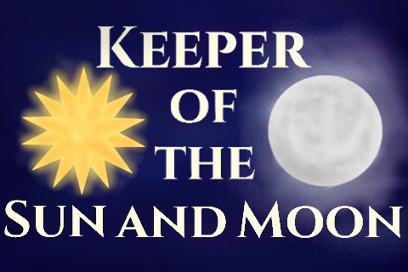 About the Author
Brynn Chernosky began Keeper of the Sun and Moon out of boredom her freshman year of high school, which is why the title is so pretentious. (Any potential sequels will have equally pretentious titles.) Brynn would like to promise any college admissions officers reading this that even if she's out all night hunting monsters for research purposes, she will not be late to class.
About Choice of Games LLC
Choice of Games LLC is a California Limited Liability Company dedicated to producing high-quality, text-based, multiple-choice games. We produce games in house, including Choice of the Dragon and Choice of Broadsides. We have also developed a simple scripting language for writing text-based games, ChoiceScript, which we make available to others for use in their projects, and we host games produced by other designers using ChoiceScript on our website. All of our games are available on the web. We also produce mobile versions of our games that can be played on iPhones, Android phones, and other smartphones.
We announce new games on our blog, Twitter, Facebook, and Google Plus.
More about Choice of Games LLC