Credits
Writer: Mike Walter
Copy Editing: Brad "J" Warner
Art: Werner Mueck
ChoiceScript Language Design & Development: Dan Fabulich
"The Lost Heir 3: Demon War" is Copyright 2017 Mike Walter. All rights reserved.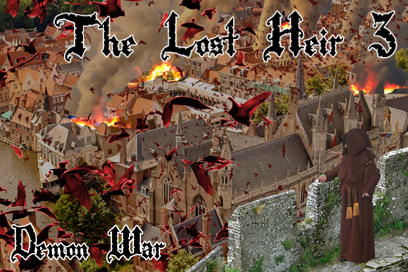 Abut the Author
Mike Walter lives in Owen Sound, Ontario with his wife Sheri and children Marissa and Ethan. He is the author of Life of a Mobster, Life of a Wizard, and Paradox Factor. Follow his work at Lucid's games.
Special Thanks
Special thanks to Dashing Don for hosting the Beta Test and to the wonderful people who helped test it. In partnership with Choice of Games, Mike Walter auctioned off the naming rights to two characters to benefit My Friend's Place, a Los Angeles shelter for homeless teens. Nathan Mubasher won the 2015 auction and helped create the character "Naistalan Mubashair". James Ritchie won the 2016 auction and helped create the character "Dura".
About Choice of Games LLC
Choice of Games LLC is a California Limited Liability Company dedicated to producing high-quality, text-based, multiple-choice games. We produce games in house, including Choice of the Dragon and Choice of Broadsides. We have also developed a simple scripting language for writing text-based games, ChoiceScript, which we make available to others for use in their projects, and we host games produced by other designers using ChoiceScript on our website. All of our games are available on the web. We also produce mobile versions of our games that can be played on iPhones, Android phones, and other smartphones.
We announce new games on our blog, Twitter, Facebook, and Google Plus.
More about Choice of Games LLC