Credits
Writer: Andrew J. Schaefer
ChoiceScript Language Design & Development: Dan Fabulich
"My Day off Work" is Copyright 2017 Andrew J. Schaefer. All rights reserved.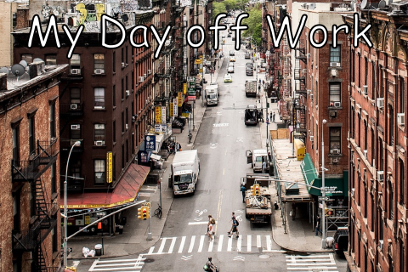 About the Author
Andrew Schaefer has been an urban wanderer for almost as long as he's been allowed to leave the house, and enjoys using his imagination to remind people how many forks there are in the road of life. He has previously written Somme Trench, an in-depth look at one of World War I's most grisly battles, and Planetary Quarantine, an exploration of the concepts and crises that might follow humanity's exploration of the stars. He lives with his family in Maine.
About Choice of Games LLC
Choice of Games LLC is a California Limited Liability Company dedicated to producing high-quality, text-based, multiple-choice games. We produce games in house, including Choice of the Dragon and Choice of Broadsides. We have also developed a simple scripting language for writing text-based games, ChoiceScript, which we make available to others for use in their projects, and we host games produced by other designers using ChoiceScript on our website. All of our games are available on the web. We also produce mobile versions of our games that can be played on iPhones, Android phones, and other smartphones.
We announce new games on our blog, Twitter, Facebook, and Google Plus.
More about Choice of Games LLC