Credits
Writer: Mike Walter
Artwork: Vincent Cowley
ChoiceScript Language: Dan Fabulich
"Paradox Factor" is Copyright 2013 Mike Walter. All rights reserved.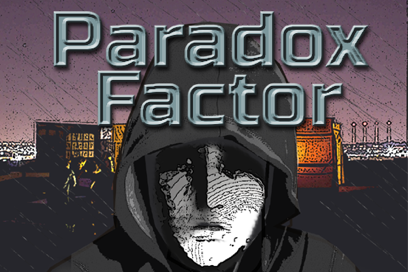 About the Author
Michael Walter lives in Owen Sound, Ontario with his wife Sheri and children Marissa and Ethan. Check out his website at Lucid's Games
Other works
Life of a Wizard: https://www.choiceofgames.com/user-contributed/life-of-a-wizard Write an archmage's autobiography in this 80-year 130,000-word interactive fiction! Play good or evil, man or woman, as you bring peace to the kingdom or take over the world with your sorcery. Brew potions, raise the dead, summon mythical beasts, control men's minds, and blast away your enemies. "Life of a Wizard" is an epic interactive novel where you control the main character. In each chapter, your choices determine how the story proceeds. Will you find romance, get married, or have children? Will you become the arch-mage, grand bishop, nature-loving druid, hardened battle-mage or even an undead lich? The choice is yours!
About Choice of Games LLC
Choice of Games LLC is a California Limited Liability Company dedicated to producing high-quality, text-based, multiple-choice games. We produce games in house, including Choice of the Dragon and Choice of Broadsides. We have also developed a simple scripting language for writing text-based games, ChoiceScript, which we make available to others for use in their projects, and we host games produced by other designers using ChoiceScript on our website. All of our games are available on the web. We also produce mobile versions of our games that can be played on iPhones, Android phones, and other smartphones.
We announce new games on our blog, Twitter, Facebook, and Google Plus.
More about Choice of Games LLC