Credits
Writer: James Shaw
Beta Testers: Alex Zima, Alexis Brossman, Angelica Figueroa, Aronjo, Avery Crowe, B. L. Barresi, blob, B.R, Caio Cesar, CT, Daniel Spinola, EclecticEccentric, el_coracero, Ella Hawke, Elysian, Freja, Iello, Isabella_Taylor, James DeGaray, Jaysen Shah, Jeeshadow1, Kastan, Kevin Kolbe, Krzysztof Morawski, Lynossa, Neda Rivers McLynne, nightwave, Nuan10, Pime, PlumBeast, Scarlet Shadow, Sel_Lee, snowgoose, Sparky She-Demon, The_Lady_Luck, xelvmi, Yasmine Moolenaar,
Copy Editing: Mouse Bowden
Art: Michael Chang
ChoiceScript Language: Dan Fabulich
"Relics of the Lost Age" is Copyright 2020 James Shaw. All rights reserved.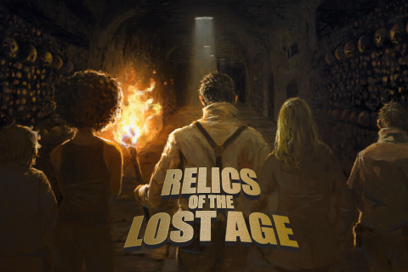 About the Author
James Shaw lives in Dublin, Ireland, where he lectures on the history of the ancient world. He is passionate about history, archaeology, adventure, and travel, and he has an intense dislike of Nazis, all of which makes him very well-suited to writing Relics of the Lost Age. He enjoys telling stories which engage with real-life issues, but which also remember to be fun. He prefers Greeks to Romans, cats to dogs, The Beatles to Elvis, and The Last Crusade to Raiders of the Lost Ark.
Special Thanks
I would like to thank everybody who read and commented on drafts of Relics during the public beta at the Choice of Games Forum. It has been a privilege to be a part of such a supportive, inclusive, and fun community.
About Choice of Games LLC
Choice of Games LLC is a California Limited Liability Company dedicated to producing high-quality, text-based, multiple-choice games. We produce games in house, including Choice of the Dragon and Choice of Broadsides. We have also developed a simple scripting language for writing text-based games, ChoiceScript, which we make available to others for use in their projects, and we host games produced by other designers using ChoiceScript on our website. All of our games are available on the web. We also produce mobile versions of our games that can be played on iPhones, Android phones, and other smartphones.
We announce new games on our blog, Twitter, Facebook, and Google Plus.
More about Choice of Games LLC