Credits
Writer: Felicity Banks, Jac Colvin, Miguel Esteban, Eric Moser, and William Taylor.
Beta Testers: Shamoi Carty, Lessly Cepeda, Jakub Danis, DarthDovahkin, DisturbedOne, Dpwjeremy, idonotlikeusernames, Juums, Alex McCarthy, Tyler McMahon, Moreau, Nahim, Elizabeth Robinson, Amy Sasso, Gush Saa, SheaMcD, Tevin, and theboywhocould.
ChoiceScript Language Design & Development: Dan Fabulich
"Starship Adventures" is Copyright 2016 Felicity Banks, Jac Colvin, Miguel Esteban, and Eric Moser. All rights reserved.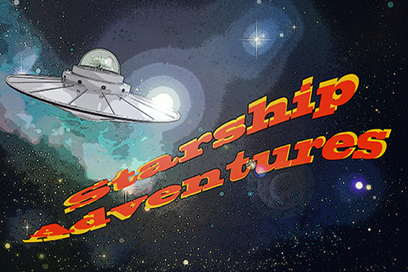 The space background is under a Creative Commons licence and is by plank. The UFO was bought from iStock and is by AbsurdWordPreferred. The rocket is a free stock image from Deviant Art. Those images were combined, adjusted, and edited by Jac Colvin.
About the Authors
Felicity is alarmingly prolific, and keeps her ifdb page up to date. Jac wrote The Draconic Challenges for the Windhammer Prize. Felicity wrote After the Flag Fell for the same prize, and won. Felicity Banks is also one of the writers for Tin Man Games' app magazine Choices: And The Sun Went Out. Felicity Banks' first Hosted Game is Attack of the Clockwork Army. Eric Moser's first Hosted Game is Community College Hero: Trial by Fire.
About Choice of Games LLC
Choice of Games LLC is a California Limited Liability Company dedicated to producing high-quality, text-based, multiple-choice games. We produce games in house, including Choice of the Dragon and Choice of Broadsides. We have also developed a simple scripting language for writing text-based games, ChoiceScript, which we make available to others for use in their projects, and we host games produced by other designers using ChoiceScript on our website. All of our games are available on the web. We also produce mobile versions of our games that can be played on iPhones, Android phones, and other smartphones.
We announce new games on our blog, Twitter, Facebook, and Google Plus.
More about Choice of Games LLC