Credits
Writer: Jason Stevan Hill
Artwork: Nikki Cook, Vasilis Lolos.
Continuity Testing: Sean Koagedal, Brad "J" Warner.
Copy-editing: Brad "J" Warner.
Beta-Testers: Ari Agbabian, Heather Albano, Rodericka Applewhaite, Casey Butterfield, Noah Duesterberg-Chavez, Joel Hafvenstein, Stephanie Holderness, Lakeisha Johnson, Calvin Jones, Peter C. Macko, Steven J. Nelson, Gabriel Requião, Dominic Selvo, Marita Solberg, Adam Strong-Morse, Anise Strong-Morse, Kári Tulinius.
Managing Editor: Dan Fabulich
ChoiceScript Language Design and Development: Dan Fabulich
Version: 2.1.2; released December 27th, 2013.
Choice of the Vampire is Copyright 2010-2013 Jason Stevan Hill. All rights reserved.
This image and all versions of it are used under license, Copyright 2010 Nikki Cook. All rights reserved.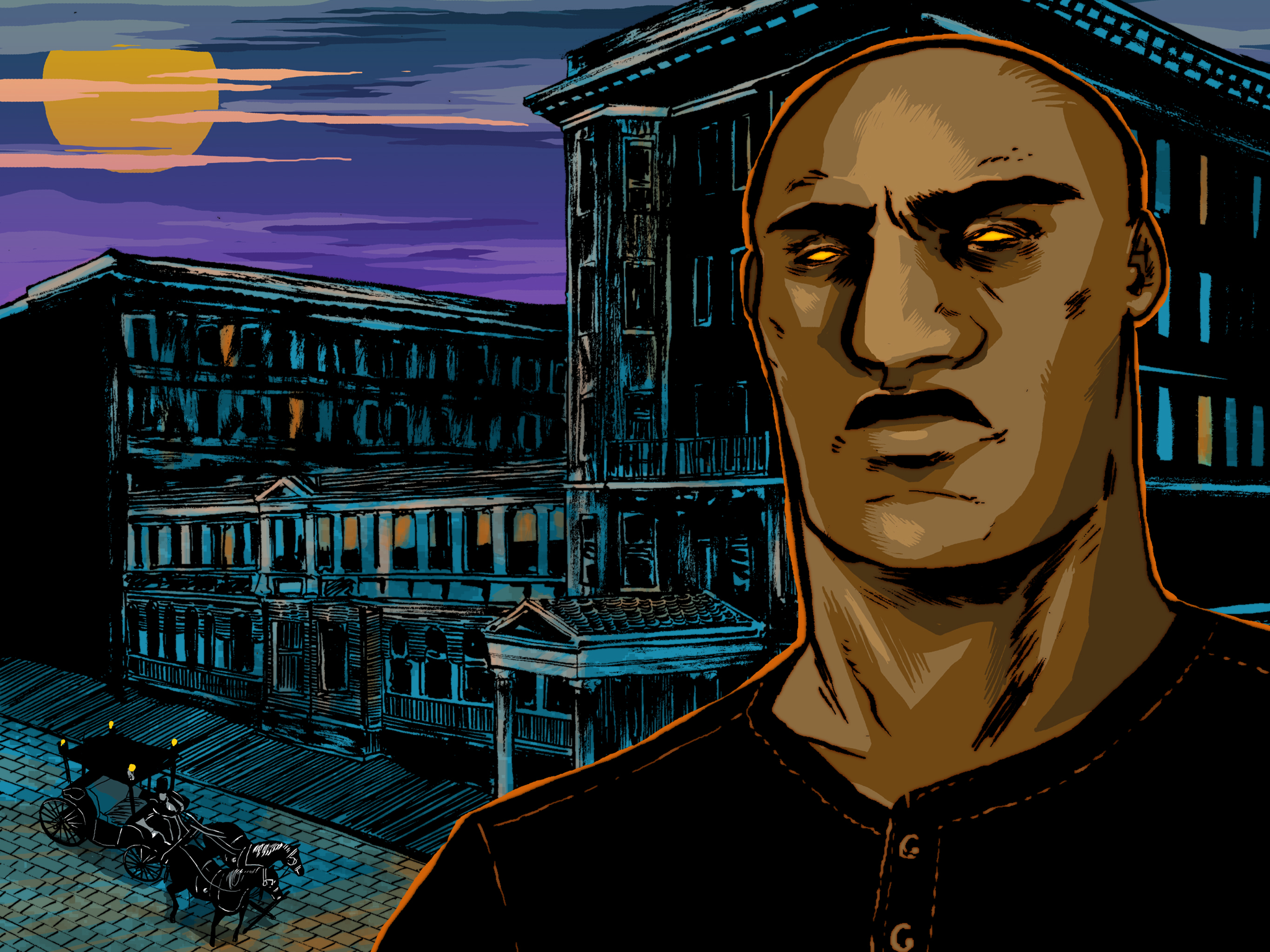 This image and all its variations are Copyright 2013 Choice of Games. All rights reserved.
About the Author
Jason Stevan Hill is Chief Operating Officer of Choice of Games LLC. He was fascinated with vampires from an early age—including being named "Most Likely to Become a Vampire" in his high-school yearbook—and was convinced after much prodding by Dan Fabulich to write an interactive fiction about them.
Bibliography
Berkeley, Kathleen C. "The Ladies want to bring about reform in the Public Schools": Public Education and Women's Rights in the Post-Civil War South. History of Education Quarterly. Vol 24, No 1, pp 45-58. Newark, DE: History of Education Society, 1984.
Berkeley, Kathleen C. Like a Plague of Locusts: From an Antebellum Town to a New South City, Memphis, Tennessee, 1850-1880. New York: Garland, 1991
Blume, Helmut. The German Coast: During the Colonial Era, 1722-1803. Translated by Ellen C. Merill. Destrehan, LA: The German-Acadian Coast Historical and Genealogical Society, 1990.
Brister, Nancy. A Street by any other name. NewOrleans.com, 2009.
Brod, Donald F. "John A. Cockerill's St. Louis Years: A Study of the Campaign That Brought Them To An End." Missouri Historical Society Bulletin. St. Louis: Missouri Historical Society, April 1970.
Brown, Walter Lee. A Life of Albert Pike. Fayetteville: University of Arkansas, 1997.
Burstein, Andrew. The Passions of Andrew Jackson. New York: Knopf, 2003.
City of Memphis v Brown, 87 U.S. 289 (1873).
Deiler, J. Hanno. The Settlement of the German Coast of Louisiana and the Creoles of German Descent. Philadelphia: Americana Germanica Press, 1909.
DeLatte, Carolyn E. ed. The Louisiana Purchase Bicentennial Series in Louisiana History. Vol 4, Part A Antebellum Louisiana, 1830-1860: Life and Labor. Lafayette, LA: University of Louisiana, Lafayette, 2004.
Erskine, John H. A Report on Yellow Fever as it appeared in Memphis, Tenn., in 1873. Public Health Papers and Reports. Vol 1, pp 385-392. New York: Hurd and Houghton, 1875.
Hermitage, courtesy of the Ladies Hermitage Association, which I was fortunate enough to visit, March 20th, 2013.
Labbe, Dolores Egger ed. The Louisiana Purchase Bicentennial Series in Louisiana History. Vol 3, The Louisiana Purchase and its Aftermath, 1800-1830. Lafayette, LA: University of Louisiana, Lafayette, 1998.
Memphis Tech High Alumni. "Early Black Education in Memphis." www.memphistechhigh.com.
Quinn, Denis A. The Heroes and Heroines of Memphis. Providence, RI: E.L. Freeman & Son, 1887.
Schlesinger, Arther M. jr. The Age of Jackson. Boston: Little, Brown and Co., 1945.
Thelen, David. Paths of Resistance: Tradition and Democracy in Industrializing Missouri. Columbia: Missouri, 1986.
Tipton County v. The Rogers Locomotive and Machine Works, 103 U.S. 523 (1880).
United States Marshals Service. www.usmarshals.gov
Wikipedia, in all its messy glory, for too many articles to count.
Wren, Lynette Boney. Crisis and Commission Government in Memphis: Elite Rule in a Gilded Age City. Knoxville, TN: Tennessee, 1998.
Yoes, Henry E. III. Louisiana's German Coast: A History of St. Charles Parish. 2nd ed. Lake Charles, LA: Racing Pigeon Digest, 2005.
Young, John Preston, and A. R. James. Standard History of Memphis, Tennessee,from a Study of the Original Sources. Knoxville, Tenn.: H. W. Crew, 1912.
About Choice of Games LLC
Choice of Games LLC is a California Limited Liability Company dedicated to producing high-quality, text-based, multiple-choice games. We produce games in house, including Choice of the Dragon and Choice of Broadsides. We have also developed a simple scripting language for writing text-based games, ChoiceScript, which we make available to others for use in their projects, and we host games produced by other designers using ChoiceScript on our website. All of our games are available on the web. We also produce mobile versions of our games that can be played on iPhones, Android phones, and other smartphones.
We announce new games on our blog, Twitter, Facebook, and Google Plus.
More about Choice of Games LLC