Credits
Writer: Jim Dattilo
Art: Edouard Noisette
Character Portraits: Amy Wilkins
Copy Editing: Kirsten Hipsky
Chapter Headers: Paul Wang
Cultural Consultants: Noordin Ali Kadir, Benjamin Rosenbaum
Narrative Testing: Aletheia Knights
Cultural Testers: Zoja Barylko, Kaan Eren, Abdullah Mohammad, Faraz Quraishi, Jonathan Stollman
Beta Testers: Kayla Brady, Ryan Chang, Eric Chin, Ian Crider, Stacie Daniel, Aaron Danvers-Jukes, Meredith Davis, James DeGaray, Sayer Detling-Edsall, Christopher Duong, Graham Eyre, Shedrick Flax, Alicia Gugele, Hadi Hanif, Maria Harrison, Jaden Hartfield, Kai Jackson, Andras Karunaharan, Miriam Laird, Gaia Lambruschi, Ciara McLaren, Fernando Neves, Randy Parrish, Nathaniel Pelton, Rafe School, Caio Silva, David W. Snee, Cynthia Sulit, Eric Thomas, Amanda Tran, Jhenne Tyler, Isaiah VanScoy, Marlo Jansen van Vuuren, Alexia Walker, Raymond Watson, David Zou
Managing Editor: Jason Stevan Hill
ChoiceScript Language Design & Development: Dan Fabulich
Copyright Paradox Interactive AB and developed by Choice Games LLC under license. Vampire: The Masquerade® is a registered trademark of Paradox Interactive AB. All rights reserved.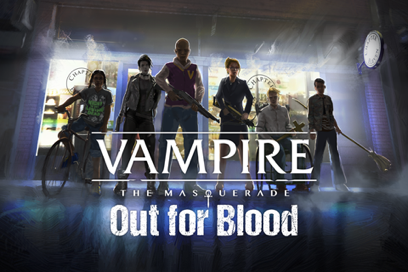 About the Author
Jim Dattilo spends most of his time number crunching and writing technical documents for the University of Pennsylvania's Perelman School of Medicine. He studied English Literature and Biology at La Salle University in Philadelphia, and lives in New Jersey with his wife, Vicki, and his pit bull, Hope. He is a lifelong roleplaying game enthusiast and currently runs several virtual tabletop games. Vampire: The Masquerade — Out for Blood is his fifth ChoiceScript title, and he is the only author to have published under all three ChoiceScript imprints.
About Choice of Games LLC
Choice of Games LLC is a California Limited Liability Company dedicated to producing high-quality, text-based, multiple-choice games. We produce games in house, including Choice of the Dragon and Choice of Broadsides. We have also developed a simple scripting language for writing text-based games, ChoiceScript, which we make available to others for use in their projects, and we host games produced by other designers using ChoiceScript on our website. All of our games are available on the web. We also produce mobile versions of our games that can be played on iPhones, Android phones, and other smartphones.
About World of Darkness
World of Darkness is a transmedia entertainment brand encompassing a number of modern fantasy horror franchises, including Vampire: The Masquerade, Werewolf: The Apocalypse, and more. Through tabletop roleplaying games, video games, board games, literature, comic books, and more, these franchises tell mature stories in a dark supernatural fantasy layered over our modern world. Since 1991, World of Darkness has defined monster-perspective entertainment for a generation of fans. For more information visit www.worldofdarkness.com.
We announce new games on our blog, Twitter, Facebook, and Google Plus.
More about Choice of Games LLC