Credits
Writer: Natalia Theodoridou
Copy Editing: Kirsten Hipsky
Art: George Cotronis
Portraits: Amy Wilkins
Narrative Testing: Aletheia Knights
Beta Testers: Daria Amelina, Mojca Bertoncelj, Kathleen Carmien, Natalia Carmo, Ian Crider, Shrutika Dandekar, Abdullah Darussalam, Meredith Davis, Christopher Duong, Rox Gilbert, Alicia Gugele, Aleksandar Jerkov, Eirini Karoutsos, Gaia Lambruschi, Odekunbi Victor, Patrick Ross, Isabel Sanford, David W. Snee, Jennifer Speerstra, Stamatis Stamatopoulos, Alasdair Young
Managing Editor: Jason Stevan Hill
ChoiceScript Language Design & Development: Dan Fabulich
Copyright Paradox Interactive AB and developed by Choice Games LLC under license. Vampire: The Masquerade® is a registered trademark of Paradox Interactive AB. All rights reserved.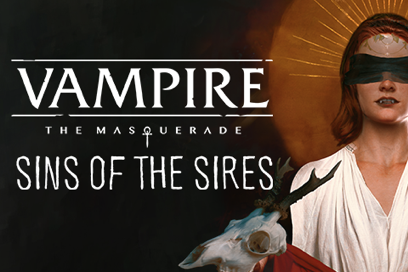 About the Author
Natalia Theodoridou has published over a hundred short stories, most of them dark and queer, in magazines such as Clarkesworld, Strange Horizons, Uncanny, Beneath Ceaseless Skies, Nightmare, and F&SF, among others. He won the 2018 World Fantasy Award for Short Fiction and was a finalist for the Nebula Award for Game Writing with his first Choice of Games project, Rent-a-Vice. Natalia holds a PhD in Media from the School of Oriental and African Studies, University of London, and is a Clarion West graduate. Originally from Greece, with roots in Russia, Georgia, and Turkey, he now splits his time between his hometown and the UK.
About Choice of Games LLC
Choice of Games LLC is a California Limited Liability Company dedicated to producing high-quality, text-based, multiple-choice games. We produce games in house, including Choice of the Dragon and Choice of Broadsides. We have also developed a simple scripting language for writing text-based games, ChoiceScript, which we make available to others for use in their projects, and we host games produced by other designers using ChoiceScript on our website. All of our games are available on the web. We also produce mobile versions of our games that can be played on iPhones, Android phones, and other smartphones.
We announce new games on our blog, Twitter, Facebook, and Google Plus.
More about Choice of Games LLC
About Paradox Interactive
The Paradox Interactive group includes development, publishing, and licensing of games and brands, consisting of a portfolio of more than 100 titles created both internally and by independent studios. Paradox owns an array of award-winning and top-selling brands including Cities: Skylines, Stellaris, Crusader Kings, Age of Wonders, and many more games available on PC and console platforms. Paradox is the owner of the World of Darkness IPs and is publishing Vampire: The Masquerade - Bloodlines 2 on PC and consoles in 2020.
From the company's start in 2004, Paradox has published its games worldwide, with top markets including the USA, UK, China, Germany, France, and Russia. Today, over four million gamers play a Paradox game each month with a global community reaching over ten million registered Paradox users.
Paradox Interactive AB (publ)'s shares are listed on Nasdaq Stockholm First North Premier under ticker PDX. FNCA Sweden AB is the company's Certified Adviser. For more information, please visit www.paradoxinteractive.com.