Credits
Writer: S. Andrew Swann
Art: Phillip Simpson
Copy Editing: Monica Hamilton
Beta Testers: Mouse Elisedd, Vernon Bright, Valerie Dunn, Jem Erroba, Rowan Lipkovits, Seth Maron, MacKenzie Michalak, Lydia Ong, Ramidel, Carlos H. Romero Jr, Keira Serahs, Vishal Shandilya, Adam Williams.
Managing Editor: Rebecca Slitt
ChoiceScript Language Design & Development: Dan Fabulich
"Welcome to Moreytown" is Copyright 2017 S. Andrew Swann. All rights reserved.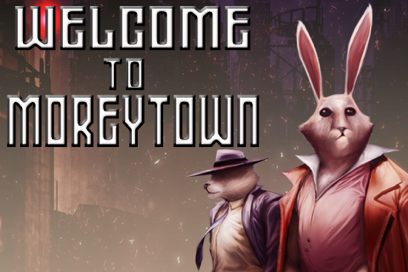 About the Author
S. Andrew Swann is a writer of science fiction, fantasy and horror, who hails from Cleveland, Ohio. He has published twenty-five novels since 1993. He is most widely known as the author of the "Moreau" series of novels from DAW books, on which the game Welcome to Moreytown is based. They are currently available as The Moreau Quartet volumes 1 and 2.
About Choice of Games LLC
Choice of Games LLC is a California Limited Liability Company dedicated to producing high-quality, text-based, multiple-choice games. We produce games in house, including Choice of the Dragon and Choice of Broadsides. We have also developed a simple scripting language for writing text-based games, ChoiceScript, which we make available to others for use in their projects, and we host games produced by other designers using ChoiceScript on our website. All of our games are available on the web. We also produce mobile versions of our games that can be played on iPhones, Android phones, and other smartphones.
We announce new games on our blog, Twitter, Facebook, and Google Plus.
More about Choice of Games LLC