Credits
Writer: Isabella Shaw
Art: Abigail Larson
Copy Editing: Tina Ryu
Beta Testers: Daria Amelina, Natalia Carmo, Eric Chin, Charles Cordova, Marta Corti, Maria Vitória Costa Neris, EclecticEccentric, Jayce Hollis, Jae Kim, Christopher Kooyman, Andy Ling, Katie Luo, Patrick Miller, B. A. Neely, Thanh Nguyen, Felicia Natasha Nicole, Cole Nixon, Hannah Powell-Smith, Kat Rooney, Saloni Singla, Cheryl Tay, Corrina Tender, Eric Thomas, Vu Hong Hanh, Akira Winters, Jarrod Wraight, Arnold Yim
Managing Editor: Rebecca Slitt
ChoiceScript Language Design and Development: Dan Fabulich
"Weyrwood" is Copyright 2018 Isabella Shaw. All rights reserved.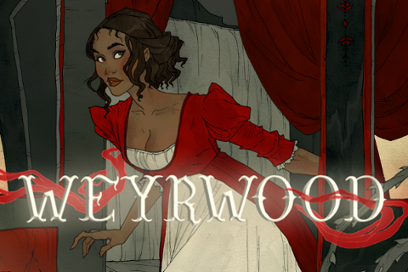 About the Author
Isabella Shaw is a writer and musician, currently based between the Czech Republic and Finland. In addition to writing fiction and poetry, she is an opera singer and core member of early music ensemble Motus Harmonicus. She sometimes dreams the future, and loves forest and sea. Isabella initially studied English at the University of Cambridge, with a focus on medieval and early modern literature and languages. Her poetry book, Songs of Remembrance, was published in 2016.
About Choice of Games LLC
Choice of Games LLC is a California Limited Liability Company dedicated to producing high-quality, text-based, multiple-choice games. We produce games in house, including Choice of the Dragon and Choice of Broadsides. We have also developed a simple scripting language for writing text-based games, ChoiceScript, which we make available to others for use in their projects, and we host games produced by other designers using ChoiceScript on our website. All of our games are available on the web. We also produce mobile versions of our games that can be played on iPhones, Android phones, and other smartphones.
We announce new games on our blog, Twitter, Facebook, and Google Plus.
More about Choice of Games LLC